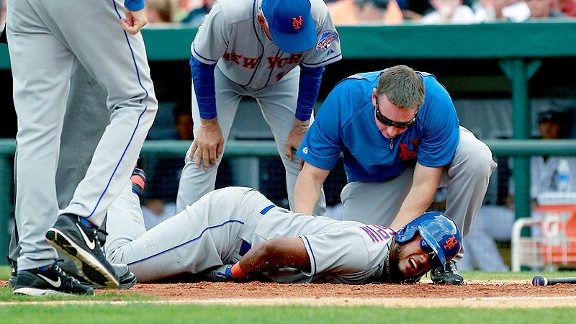 Carlos Osorio/Associated Press
Jordany Valdespin rolls around in pain after getting struck in the groin on a fastball from Justin Verlander.
LAKELAND, Fla. -- Jordany Valdespin tweeted while on the bus en route to Joker Marchant Stadium on Monday: "No body cant stop me.......teamJV1."
Valdespin said it was an inspirational song lyric he heard this morning that applied to his mentality.
Known for his brashness, Valdespin continues to back it up this spring training, though.
He continued to solidify a spot on the Opening Day roster by delivering his team-leading third Grapefruit League homer. The shot came on a game-opening long ball on a changeup from Detroit Tigers ace Justin Verlander.
Valdespin did ultimately get stopped, though. He departed in the fifth inning when a 94 mph fastball from Verlander zipped directly into his groin.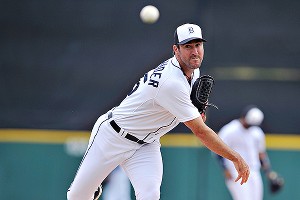 Jerome Miron/USA TODAY Sports
Justin Verlander served up a homer to Jordany Valdespin in the first inning and later painfully plunked him with a fastball.
Valdespin had squared to bunt on the pitch, so he was pretty much facing Verlander. He was not wearing an athletic supporter.
After being replaced by pinch-runner Brian Bixler, Valdespin was checked by medical staff inside the clubhouse. An inning later, he was on a bench outside the clubhouses, laughing off the ordeal.
"I'm good," Valdespin said. "I'm good. Everything is fine. The doctor said nothing bad. Everything is good. Everything is working normally. Everything is right."
Verlander cut off a questioner who asked, "Have you ever …"
The Tigers ace then said, completing the sentence: "Hit somebody in the nuts? No. I've never even seen anything happen like that. He took a hack at the first pitch -- he already hit one bomb -- and the next one he just totally squared at me. And I'm like, 'Oh, god, this isn't any good.' Right out of the hand, it's like, 'Oh, s---, that is right at his [groin].'"
"First time in my life," Valdespin said.
Valdespin can rile up other teams -- and even teammates -- with his antics, but Verlander said he had no issue with the Met. Terry Collins agreed Valdespin did nothing antagonistic this time, but the manager noted he has instructed Valdespin to tone things down.
"He's been told a lot in the last couple of years about how to handle himself on a major league field, especially when you're a young player," Collins said. "He understands it. He's adjusting to it. Once in a while you always get caught up in the moment. When you've been doing some things your whole life, sometimes you have difficulty making some adjustments, but he'll make them. We've got some good veterans on this team."
Valdespin is now hitting .370 (10-for-27) with six RBIs in Grapefruit League play.
After nearly a week in the outfield, he started at second base Monday. But with Daniel Murphy (side muscle) due back this weekend, Valdespin will resume getting serious outfield exposure, according to Collins.
A team insider confirmed Valdespin likely is a direct competitor with Kirk Nieuwenhuis for a spot. And that does not bode well for Nieuwenhuis, who is out with a bone bruise in his left knee after a 1-for-18 start to Grapefruit League play.
The Mets hoped to reinsert Nieuwenhuis into spring-training games Wednesday, but that day instead is now scripted to be the first time Nieuwenhuis resumes baseball activity outdoors.
At this point, it is hard to fathom Valdespin being left off the Opening Day roster. And he'll have to be used more as an outfielder assuming that materializes.
Outfield coach Tom Goodwin said center field is generally the easiest position for a player converting from the infield, because the balls come truer off the bat.
Collins experimented using Collin Cowgill as a late-game defensive replacement in center Monday –- another clue Valdespin may end up the center fielder against right-handed starting pitchers.
"He just has to get out there and work on it," Goodwin said about Valdespin. "When you have the speed … it makes up for a lot. If you do misread a ball or something happens, you can always make up for that. That's a plus when you're out there."
Said Collins: "A lot things are going to happen in the next three weeks, but what you saw today is exactly what he can do. He can create big runs, fast runs by hitting the ball out of the ballpark. And when he gets on, he scores. We're going to try him in the outfield a little bit to try to get him more comfortable out there in case that's where we have to put him."