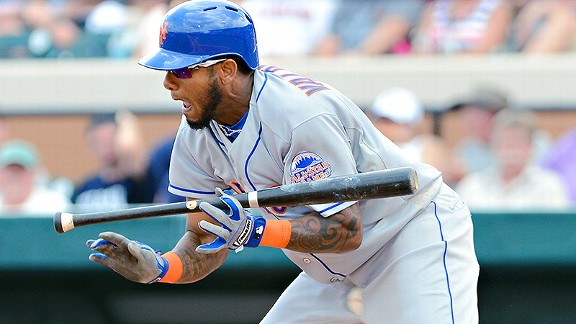 Mark Cunningham/Getty Images
Jordany Valdespin is drilled in the groin Monday by a fastball from Justin Verlander.
PORT ST. LUCIE, Fla. -- Jordany Valdespin said he learned his lesson and will wear an athletic supporter in the future.
Two days after being struck in the groin on a 94 mph fastball from Justin Verlander, the Mets decided to keep Valdespin back at the team's complex rather than have him make the trip to Viera, Fla., to face the Washington Nationals. Valdespin insisted he was OK.
"I'm fine. I'm good," Valdespin said Wednesday morning. "Everything is good. I'll just take a rest. I don't have the decision. I'm a player. If they want me to stay here and take an easy day, then I'll do it."
Valdespin said he saw the frame-by-frame photos of him being struck. Asked if it was painful to view, Valdespin said with a laugh: "No."
Valdespin said he never has worn an athletic supporter, but will in the future.
"I've never used a cup, but I've got to use it, because I'm a little scared of the baseball hitting my [groin]," he said. "I've got to do it now. I'll never forget. All positions I've got to use it. You never know, because the ball [can] give a bad hop and hit me again."
Summing up Monday's incident, Valdespin said: "Very scared. I feel like I don't have nothing at the time. But everything is normal."