PORT ST. LUCIE, Fla. -- Here is the exchange with Sandy Alderson this morning regarding David Wright:
How severe is the injury?
"So David is flying directly to New York and will be up there today, be examined by our doctors there. We expect that he'll fly back tomorrow, not today. In terms of the injury and it's severity, we just don't know any more than David has related already publicly. So until he's actually examined, we won't know the exact nature of the injury. We won't know the extent of the injury. And we won't have any sort of timetable for his return."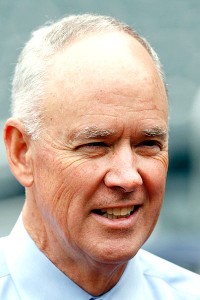 William Perlman/US Presswire
Sandy Alderson will learn the severity of David Wright's injury in the next 24 hours.When did you become aware of this?
"It was yesterday we became aware of the problem. And when we became aware of it, we contacted Team USA immediately and had him reexamined. In addition to the medical track, on the administrative side we contacted other team officials. So he was examined. The determination was he would not play."
Is it correct that had you not intervened, he probably would have proceeded with playing Thursday night?
"Well, that's a possibility, but I don't know that."
He took batting practice before the 7 p.m. game, so what was the exact timing?
"We had conversations as late as about 6:30, 6:40 before game time. I'm not sure when exactly this was first experienced. He had hoped it would go away. It didn't. He felt a responsibility to deal with it. Again, when we were alerted, we took what we thought was the right course of action."
He had that stress fracture in his back. Is this clearly in a different location?
"Again, there's no reason to believe it's connected to that. But he's going to be examined today."
Is there any concern that you only became aware of it Thursday if he indicated there had been an issue for a week?
"David is a guy that doesn't overreact to things. He's committed. When he makes commitments, he wants to execute on them, carry them out. I'm sure he felt a responsibility to Team USA. This is a difficult development for him to accept. But in the final analysis, we felt this was the right thing to do."
What are the third-base options right now?
"We're not going to really talk about those until tomorrow -- even internally. We'll think about them. This is something that just came up last night. There's no reason we need to jump to conclusions today about whether he'll be available or not. We'll know a lot more tomorrow."
David said he had discomfort even leading into the first Team USA game. You weren't aware of that at all?
"Again, I didn't hear his full remarks. I'm going to defer any response until we hear back from the doctors and have a fuller explanation from them, if that's all right."
Is this the rib cage or the oblique?
"I can't. I'm not going to say I know."