PORT ST. LUCIE, Fla.
FIRST PITCH: An alarming injury total keeps growing larger.
Injury-prone Shaun Marcum spent Tuesday's off-day in New York getting a cortisone shot in his pitching shoulder for what the team labeled an impingement.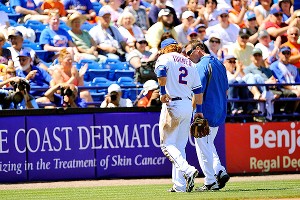 Brad Barr/USA TODAY Sports
Justin Turner limped off the field during Saturday, one of an overwhelming number of Mets injuries.
Marcum will not make his planned start at 1:10 p.m. today against the St. Louis Cardinals at Tradition Field. Instead, Jeremy Hefner will start opposite Adam Wainwright, of curveball to now-teammate Carlos Beltran fame.
The Mets maintain that Marcum will miss only the one rotation turn. If he were to be unable to open the season, though, Aaron Laffey likely would fill the void, since Hefner already is filling in for Johan Santana.
A review of the significant camp injuries:
David Wright: Strained intercostal on left side. Opening Day status questionable, but Wright remains hopeful.
Daniel Murphy: Strained intercostal on right side. Terry Collins says it's more likely Murphy opens the season on the DL than Wright.
Santana: Has not been on a mound in 15 days because of shoulder fatigue. DL-bound.
Marcum: Shoulder impingement.
Frank Francisco: Experienced elbow inflammation in camp, after undergoing surgery in December to remove a bone spur. DL-bound to open season.
Justin Turner: Suffered sprained right ankle Saturday. X-rays negative. Hope is he returns to a game Friday.
Kirk Nieuwenhuis: Served as DH in a minor league game Wednesday, his first game action in 2½ weeks. He suffered a bone bruise on his left knee sliding March 3. Nieuwenhuis now is ticketed for Triple-A Las Vegas to open the season.
Jenrry Mejia: Forearm tendinitis. The Mets say this is not alarming and not a harbinger of another Tommy John surgery.
Thursday's news reports: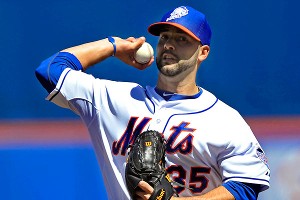 Brad Barr/USA TODAY Sports
Dillon Gee has been roughed up in consecutive appearances.
• Dillon Gee maintained he rediscovered his form in his fourth and final inning, when he struck out the side -- Tyler Greene, Jose Altuve and Brett Wallace. Overall, though, Gee was roughed up for a second straight game Wednesday, allowing five earned runs. The Mets rallied for a 7-5 win against the Houston Astros in Kissimmee as Matt den Dekker hit a tiebreaking two-run triple in the seventh against his cousin and former high school and college teammate, Kevin Chapman. Read more in the Star-Ledger.
• Den Dekker, nonetheless, looks headed for minor league camp imminently.
• Read a full roster projection here, which includes Pedro Feliciano and Greg Burke claiming bullpen spots, Omar Quintanilla beating out Brandon Hicks (who committed his fourth error Wednesday), and Zach Lutz sneaking onto the roster with Murphy opening the season on the DL.
The Mets intend to carry two left-handers in the bullpen.
• The Mets plan to formally announce their rotation order in the next day or so. The plan appeared to be Jonathon Niese on Opening Day, followed by Marcum, Matt Harvey, Gee, back to Niese and then Hefner. It remains to be seen whether Marcum's shoulder issue has disrupted that order.
• Columnist John Harper in the Daily News wonders who has a brighter horizon over the next five years -- the Mets or the Yankees. Writes Harper:
I can hear the Yankee fans screaming obscenities already, and I can understand why it may sound insulting at first, considering the Mets may not win 70 games this season. Then again, with age and injuries painting such an ominous picture in Tampa these days, what if the Yankees win 84 games and miss the playoffs?
That scenario is hardly far-fetched, especially now with Derek Jeter struggling with the after-effects of his broken ankle, to the point where GM Brian Cashman admitted Wednesday the Captain may open the season on the disabled list.
So if we're looking at a five-year window with the two local teams, and the Yankees are now far from a lock to cash in on Year 1, suddenly the young talent the Mets are grooming to contend in 2014 and beyond becomes all the more enticing. …
However, Harper concludes:
Yes, there is absolutely an argument to be made here for betting on the Mets' five years, and three major league executives I polled on Wednesday said they would be highly tempted to go that way. Yet all three said if they were putting their own careers on the line, ultimately they would bet on the Yankees.
The common denominator: They don't trust the Wilpons, and they don't believe Steinbrenner will stick to the $189 million figure if it means empty seats at Yankee Stadium and weak ratings on the YES Network.
• On Marcum, Sandy Alderson told Mike Puma in the Post: "Anytime there's some sort of intervention that occurs there is at least minor concern. But this was largely precautionary." Read more in the Star-Ledger, Times, Newsday and Record.
• Read more on the status of Wright and Murphy in the Star-Ledger, Post, Newsday, Daily News and Times.
• Read more on Nieuwenhuis in the Record.
• Wright was named third baseman for the all-World Baseball Classic team. Ex-Mets Jose Reyes, Angel Pagan and Nelson Figueroa also appeared on the 12-player list.
• From the bloggers … Metsmerized Online wonders if Jordany Valdespin becomes the difference-maker the Mets never added this offseason. ... After hearing about Marcum, Mets Police has Jim Halpert Face.
BIRTHDAYS: Longtime Cub Shawon Duston, who hails from Brooklyn and played for the Mets in 1999, turns 50.
TWEET OF THE DAY:
This is Shaun Marcum's new bowling ball. He uses it just for spares. It doesn't spin as much as his strike ball. twitter.com/Jay_HorwitzPR/…

— Jay Horwitz (@Jay_HorwitzPR) March 20, 2013
YOU'RE UP: Who will have a better next five years -- the Mets or the Yankees?