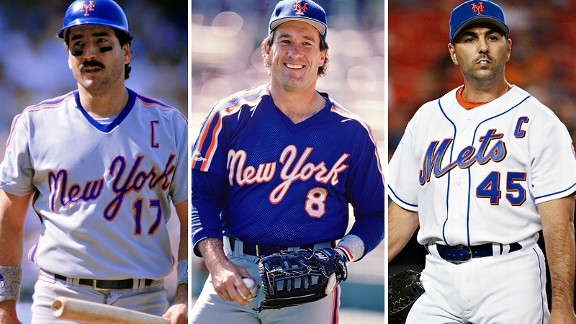 Getty Images
David Wright joins Keith Hernandez, Gary Carter and John Franco as the only captains in Mets history.
PORT ST. LUCIE, Fla. -- David Wright has been named the fourth captain in Mets history, joining Keith Hernandez, Gary Carter and John Franco.
"This is probably one of the proudest days of my career so far," Wright said. "…To be on that short list of guys that have been considered captain of this franchise is, for me, a dream come true to say the least and something I'm very, very, very proud about."
Chief operating officer Jeff Wilpon said the decision was essentially made from an ownership perspective the instant Wright signed an eight-year, $138 million contract in early December. Wright, though, said he wanted the endorsement of teammates before accepting the honor.
"I think the decision was made when we gave him the contract," Wilpon said. "Did we announce it then? No, we didn't announce it then. But I believe the decision was made at that point in time. When you commit that kind of money and resources that we have to a guy like this, you want to make sure he's the leader. And he's proven to be that."
Wright said it was a joint decision not to place a "C" on his jersey, since it's not his personality and a standard uniform is sacred.
"Part of it, I think, is my personality, where I don't necessarily like to stick out too much," Wright said. "I think the uniform is uniform for a reason. So I think that everybody is kind of in agreement that we're going to do without."
Wright becomes the third active captain in the majors, according to the Mets. He joins the Yankees' Derek Jeter and Paul Konerko of the Chicago White Sox.
Said Hernandez, via the team: "Being named captain was a badge of honor. My life did not change that much. I just became a sounding board in certain situations. I have been around David long enough to know that he is the perfect guy to the be the captain of the Mets."
Said Franco: "We had talks together when he came up. I told him to play hard an play the game the right way. Being named captain is a sign of respect and a sign that the players on the team hold you in high esteem and that they expect you be the leader on and off the field. I took my captaincy very seriously and I know that David will do the same."
Read the full news story here.