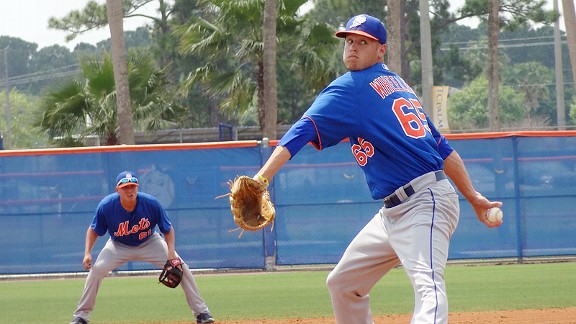 Adam Rubin
Zack Wheeler pitches during Saturday's minor league intrasquad game.
PORT ST. LUCIE, Fla. -- Zack Wheeler pitched in a minor league intrasquad game Saturday, and the various MLB scouts who flocked to the event could not stop raving.
Wheeler was pumping fastballs with a smooth delivery at 96-98 mph, and also was flashing a curveball, slider and an occasional changeup.
"He's got four pitches," one scout observed.
Added another: "And they're all plus, plus, plus, plus."
"So effortless," a third scout said about Wheeler's delivery.
Those with a trained eye who watched Saturday concluded Wheeler is a definite No. 1 starter and ready now, although he is slated to start at Triple-A Las Vegas.
"He's really good ... and we're not getting him," one scout said with a laugh, noting the Mets would never trade the future ace.
About the only thing Wheeler didn't do well Saturday was bunt. Facing Erik Goeddel, Wheeler bunted into a double play.