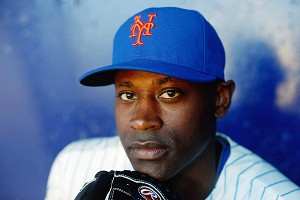 Chris Trotman/Getty Images
LaTroy Hawkins
LAKE BUENA VISTA, Fla. -- At the contractual deadline for him to be notified, the Mets have told LaTroy Hawkins he has made the Opening Day roster, a team insider told ESPNNewYork.com. That verdict was expected.
Hawkins, 40, has not allowed a run in 5 2/3 Grapefruit League innings. Opponents have a .227 batting average against him. Hawkins has surrendered five hits and two walks while striking out four over the six appearances.
He went 2-3 with a 3.64 ERA in 48 relief appearances for the Los Angeles Angels last season.