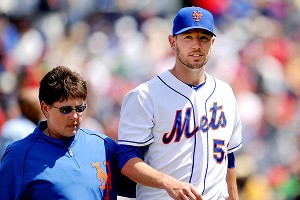 Brad Barr/USA TODAY Sports
Jeremy Hefner is escorted off the field after being struck in the right elbow with a fourth-inning comebacker.
PORT ST. LUCIE, Fla. -- Jeremy Hefner suffered a bruise on the side of his right elbow when struck by a one-hop comebacker off the bat of Carlos Beltran in the fourth inning, but the right-hander did not suffer a fracture. X-rays of Hefner's elbow came back negative.
Terry Collins expects Hefner will be available to serve in a four-man rotation to open the season, until Aaron Laffey is needed as a fifth starter.
"Hopefully it's a maximum of just a couple of days to get the swelling out of it and start throwing again and see where we're at," Hefner said. "It's not actually on the bone, because it was bent when it happened. So it got a little more muscle than the bone. It already feels better. That's a good sign. And my strength is back in my hand -- because right after, the trauma of banging, I couldn't really grip. But that's all come back and it seems to be progressing already."
As for the sharp one-hopper that struck him, Hefner said: "I was trying to find the ball, but I didn't know where it went. And then it was just like, 'Whoa, let's hope for the best and see what happens.' I've been hit in the ribs and in the arm, the fleshy part of the arm, but never on the elbow like that. It's kind of scary at first. It's good now. It's already feeling a little better, and I'm very optimistic."