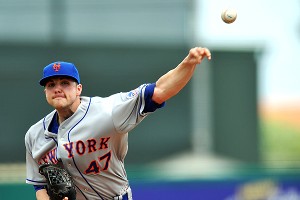 Steve Mitchell/USA TODAY Sports
Aaron Laffey appears ticketed to plug Shaun Marcum's rotation spot.
PORT ST. LUCIE, Fla. -- Left-hander Aaron Laffey, who was dispatched to minor league camp over the weekend, likely will break camp with the Mets.
Terry Collins said the Mets are strongly leaning toward carrying Laffey over injured Shaun Marcum to start the season, because Marcum has not pitched since March 16 due to a shoulder impingement that required a cortisone injection and now neck stiffness that will be treated with anti-inflammatory medication. Marcum is due for more tests Wednesday morning.
"He would be the guy that would probably step in," Terry Collins said. "Laffey is our No. 1 option right now."
Marcum is expected to open the season on the disabled list.
"He hasn't pitched in two weeks," Collins said. "I mean, to have him all of a sudden ready to pitch Game 3 or 4, I'd be surprised."
A Mets official told ESPNNewYork.com the Mets very likely would handle any rotation issues internally and not seek outside help such as Chris Young.
Laffey, 27, had tossed nine scoreless Grapefruit League innings before getting roughed up Sunday in a split-squad game against the St. Louis Cardinals. He allowed four runs on six hits and two walks in three innings.
Laffey was 4-6 with a 4.56 ERA in 22 appearances (16 starts) for the Toronto Blue Jays last season.
Collins said Laffey would work in the bullpen until a fifth starter is required, which would be Game 6, on April 7 against the Miami Marlins.
As for the rotation order, the Mets could move everyone up a slot and have Matt Harvey start Game 2, Dillon Gee in Game 3 and Jeremy Hefner in Game 4. But Collins said there may be merit in separating Gee and Hefner in the rotation, so the order will be resolved later this week.
"If we bring Matt in Game 2, then you've got Gee and Hefner back-to-back," Collins said. "Do you want those guys pitching back-to-back against the same club? They won't have to this [first] time. That stuff is going to be decided on Thursday."