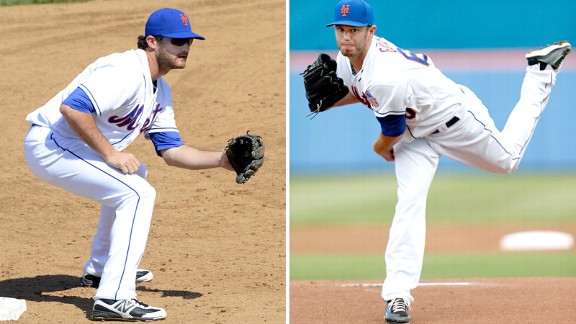 Associated Press/Getty Images
Reese Havens and Darin Gorski are losing 40-man roster spots, according to sources.
PORT ST. LUCIE, Fla. -- Needing to clear 40-man roster spots, the Mets are expected to shed infielder Reese Havens and left-hander Darin Gorski.
The process would involve exposing them to waivers. If they clear, they can be outrighted to the minors.
Havens, a first-round pick in 2008, has struggled through back injuries throughout his career. He hit .215 in 325 at-bats last season with Double-A Binghamton.
Gorski, a 25-year-old left-hander, was 9-8 with a 4.00 ERA in 25 appearances (24 starts) with the B-Mets in 2012.
Both being cleared off the 40-man roster mean the Mets have five open spots for adding players on minor league deals.