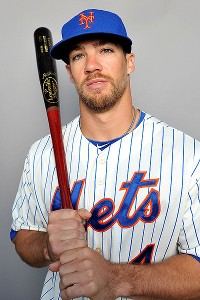 Steve Mitchell/US Presswire
Collin Cowgill will be the regular center fielder.
SARASOTA, Fla. -- Terry Collins will not be platooning in the outfield to start the season.
Collins said he will use a regular outfield of Lucas Duda in left field, Collin Cowgill in center field and Marlon Byrd in right field, while trying to find opportunities off the bench for Jordany Valdespin, Kirk Nieuwenhuis and Mike Baxter.
Nieuwenhuis likely will be a late-game defensive replacement for Duda.
"One of the things we've got to make sure we do, that's cover ourselves defensively," Collins said. "Be it center field, be it late for Lucas, or whatever it might be, he's the best outfielder we've got, in my opinion. Defensively he can really play center field. So we thought we could take him. Hopefully if he starts swinging, like he did last year, I'm sure he's going to get a lot of playing time. But he does give us a lot of security."
Cowgill, 26, was acquired from the Oakland Athletics on Dec. 18 for minor league third baseman Jefry Marte. He hit .303 in Grapefruit League play.
"He had a pretty good spring," Collins said. "He hit righties as good as anybody. If it doesn't work out, we've got Kirk there. So we've got some options."
The decision to try Cowgill full time in center, as well as the decision to carry Nieuwenhuis, signals the Mets were not comfortable with Valdespin as a fielder -- at least with Duda also playing in the outfield.