SARASOTA, Fla.
FIRST PITCH: The Mets have landed in New York.
They will hold a player workout today at Citi Field from noon to 2 p.m.
Tomorrow: Opening Day, with Jonathon Niese opposing San Diego Padres right-hander Edinson Volquez at 1:10 p.m.
Monday's forecast calls for a high of 58 degrees and 10 percent chance of rain.
Sunday's news reports:
• Terry Collins has decided he will not be employing platoons. His Opening Day, and fairly stable, lineup: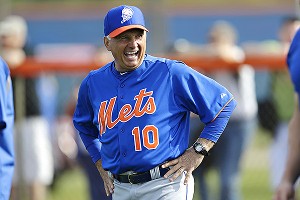 Julio Cortez/Associated Press
Terry Collins says he'll go with starters Marlon Byrd and Collin Cowgill and not platoon in the outfield.
Collin Cowgill, cf
Daniel Murphy, 2b
David Wright, 3b
Ike Davis, 1b
Marlon Byrd, rf
Lucas Duda, lf
John Buck, c
Ruben Tejada, ss
Niese, lhp
Cowgill won the center-field job outright, although Kirk Nieuwenhuis still will be on the major league roster for a role that includes serving as a defensive replacement for Duda. Jordany Valdespin will be a bat for the bench, with strategic starts against some right-handers.
The Mets have one roster decision remaining. Zach Lutz's Opening Day roster fate depends upon whether the Mets place Justin Turner (calf) on the DL.
Read more on the roster in Newsday and the Times.
• Johan Santana has decided to undergo surgery Tuesday to again repair the torn anterior capsule in his left shoulder. Team doctor David Altchek will perform the procedure. Read more in the Star-Ledger, Times, Daily News, Post, Newsday and MLB.com.
• Dillon Gee and Jeremy Hefner combined to surrender four homers and the Mets were one-hit in their spring-training finale, a 7-1 loss to the Orioles on Saturday. The Mets finished Grapefruit League play 15-15-3.
• Zack Wheeler is the Opening Day starter for Triple-A Las Vegas, on April 4 at Sacramento.
• Columnist David Lennon in Newsday suggests the Mets ought to have Wheeler start with the major league club and even consider a long-term deal now. Writes Lennon:
If a pitcher of his caliber can be a difference-maker now and help the Mets win immediately and give the impression that Sandy Alderson is not mailing it in this season, there is a compelling argument to start him in Flushing. If Wheeler indeed proves to be the second coming of Dwight Gooden, Alderson can get to work in the not-too-distant future on a long-term contract that makes sense for both sides.
When the Mets first signed David Wright to an extension in August 2006, they bought out three years of arbitration and four years of potential free agency with what became (with the option) a seven-year, $71 million contract. Last April, the Mets gave Jon Niese, who still was a season away from arbitration, a five-year, $25 million extension with two option years that could push the total guaranteed value to $46 million.
• Rusty Staub, who played for the NL pennant-winning '73 Mets, will throw out the ceremonial first pitch on Opening Day at Citi Field. Staub turns 69 Monday.
• Left-hander Scott Rice, who was cut at Dodger Stadium on the eve of L.A.'s Opening Day a year ago, will make his major league debut this week with the Mets. "It's kind of funny," Rice told Marc Carig in Newsday. "Full circle. I flew into Sarasota to start my career in the minor leagues. Now, I'm flying out of Sarasota to go to the big leagues … 14 years later." Read more in the Daily News and Star-Ledger.
• In minor league camp, the Mets released major league veterans Corey Patterson, Daniel Herrera, Mike Wilson and Craig Hansen as well as former supplemental first-round pick Brad Holt, Pedro Zapata and Brandon Brown.
• On the outfield, which was mocked this offseason by everyone including the GM, Byrd told Newsday: "Embrace it. We have no reason for anyone to believe different. We have to produce to make everyone believe differently."
• Andy Martino in the Daily News chats with SNY's Gary Cohen, Keith Hernandez and Ron Darling.
• From the bloggers … Mets Police asks if you can tell "Game of Thrones" apart from the New York Mets.
BIRTHDAYS: Right-hander Tom Hausman turns 60.
TWEET OF THE DAY:
Home sweet home!!!! Feels good to be back in NYC, #LGM twitter.com/redturn2/statu…

— Justin Turner (@redturn2) March 30, 2013
YOU'RE UP: Which Met deserves the biggest cheer and bigger jeer during pregame introductions Monday?