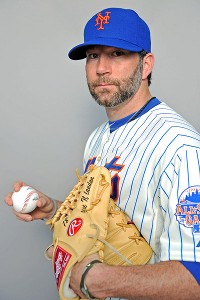 Steve Mitchell/USA TODAY Sports
Shaun Marcum has been diagnosed with nerve inflammation.
Shaun Marcum, who was examined in New York on Thursday, underwent an MRI that revealed inflamed nerves in his neck, the team announced.
Marcum was treated with "trigger-point injections" to attempt to calm the inflammation. He will return to Port St. Lucie, Fla., and be idle for at least 48 hours.
Marcum has not pitched in a game since March 16. So even if his neck and shoulder pain dissipated -- which is no guarantee -- it would take some time to get ready for a major league game.
Aaron Laffey is poised to be promoted from Triple-A Las Vegas on Sunday to take Marcum's rotation spot. Darin Gorski has been reassigned from Double-A Binghamton to Las Vegas to plug Laffey's rotation spot in the Pacific Coast League.