The Mets have lost two in a row, after opening the season with two wins.
On Saturday afternoon, manager Terry Collins hands the ball to Jonathon Niese, who started on Opening Day and gave up two runs in 6 2/3 innings, good enough for a victory.
Believe it or not, though, that's actually the poorest performance the Mets have gotten from a starting pitcher thus far. Matt Harvey pitched seven shutout innings, and both Dillon Gee and Jeremy Hefner gave up just one run.
The rotation has been outstanding. Can Niese keep it going?
Saturday's news reports:
• Despite the good start from Hefner, the Mets lost the series opener to the Marlins on Friday night, 7-5. Here are recaps from the Daily News, Post, Times, Newsday, Star-Ledger and Record.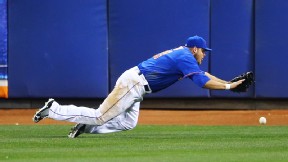 Al Bello/Getty Images
Lucas Duda's indirect route led to a fourth-inning double by Rob Brantly on Friday night.
• Jordany Valdespin got his first start of the season on Friday -- Collins put him in center field, and the leadoff spot. Valdespin responded by getting on base four times, going 2-for-3 with a walk and a hit-by-pitch, albeit with baserunning issues. Could it lead to more playing time? Read more in Newsday.
• Hefner got 13 starts as a rookie in 2012. But the only reason he's in the Mets' rotation right now is the injuries to Johan Santana and Shaun Marcum. Could Hefner stick in the Mets' starting five for the full season? Read more in the Daily News.
• Speaking of Marcum, Collins said Friday that it could be another week or two before the Mets have any idea when he'll pitch again. Read more in the Daily News and Record.
• John Buck is off to a great start with the Mets -- and he is the only catcher in the majors allowed to have personalized art on his catcher's mask. Wilson, which supplies the catcher's masks for MLB, now bans artwork, but Buck is grandfathered in and is permitted to have the personal touch. Read more in Newsday.
• If the Mets are going to remain competitive this season, they have to clean up against bottom-feeders like the Marlins, writes columnist Ken Davidoff in the Post.
• Mets prospect Zack Wheeler had a rough first start at Triple-A, requiring 86 pitches to navigate 3 1/3 innings, but manager Wally Backman said Friday that he is "not far away." Said Backman in the Post: "He is the same spot [Matt] Harvey was at last year, I would say. It's a matter of command. I think it's going to be a matter of consistency."
• Former Met John Maine is back in the majors with the Marlins. His tenure with the Mets ended in controversy, but he said Friday that he never habitually lied to the team.
"I was upset at that because I didn't lie to anybody," Maine told Jorge Arangure in the Times. "They knew everything that was going on. They all knew. It was obvious. You don't go from throwing 94 to 84 miles per hour. They knew my condition. I was 100 percent upfront about it; I didn't lie about it. At the time it wasn't so much pain, I just didn't have anything."
• Kevin Plawecki homered and had two RBIs as Savannah beat Rome, 12-3, Friday. Read the full minor league recap here.
• From the bloggers ... Rather than dwell on last night, Mets Police has one last Opening Day flashback -- to 2013, when the Mets scored 11 runs! ... Faith and Fear in Flushing experiences Three Days of the Cowgill. ... John Delcos at New York Mets Report reflects on Lastings Milledge.
BIRTHDAYS: Infielder Andy Phillips, an ex-Yankee who had a cameo with the Mets in 2008, turns 36.
TWEET OF THE DAY:
On April 27th the #Mets are giving out stress balls lol They will come in handy

— Tom (@TheNotoriousENT) April 6, 2013
YOU'RE UP: Ike Davis has started the season 1-for-16. Are you worried yet?