WHAT IT MEANS: Two outs away from a .500 homestand, the Mets displayed ninth-inning magic.
Marlon Byrd's two-run single provided a walk-off win as the Mets rallied with two runs in the bottom of the ninth against Marlins closer Steve Cishek on Sunday. The 4-3 victory deprived Miami phenom Jose Fernandez of a win in his major league debut.
Sunday's comeback victory gave the Mets (4-2) consecutive series wins to open a season for only the second time in the past 11 years.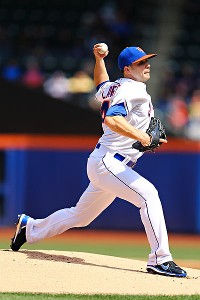 Al Bello/Getty Images
Aaron Laffey surrendered three runs and 10 hits in 4 1/3 innings in his Mets debut.
TALE OF TWO FILL-INS: With starting pitchers Nathan Eovaldi and Henderson Alvarez on the disabled list, the Marlins filled the void by calling up the 20-year-old Fernandez, who had never pitched above Class A. The Mets went the journeyman route, bypassing Zack Wheeler for Aaron Laffey.
The result: Fernandez, a Cuban defector and the youngest Marlins starting pitcher ever, retired the first 10 major league batters he faced before Daniel Murphy singled in the fourth. Laffey, meanwhile, was charged with three earned runs on 10 hits, a walk and a hit batter while lasting only 4 1/3 innings.
Terry Collins conservatively estimated the Mets would need two or three starts by Laffey or another placeholder for Shaun Marcum -- although there is no clear indication Marcum's neck and shoulder pain will dissipate and he can resume pitching after receiving targeted injections Thursday.
If the Mets lose patience with Laffey, and given they have shown no intention to call up Wheeler, the primary rotation alternative likely would be Collin McHugh.
McHugh, who is on the 40-man roster, was 0-4 with a 7.59 ERA in eight appearances (four starts) for the Mets last season. In his first Triple-A appearance with Las Vegas, he limited Sacramento to one run on four hits and a walk while striking out seven in 5 1/3 innings Saturday.
Because of a Thursday off day, the Mets can delay using their fifth starter until April 16 at Colorado if they choose. If they went straight through the rotation, the Laffey spot next would come up Saturday at Minnesota.
DEBUTANTS
Here are the results of the past 10 starting pitchers to make their major league debuts against the Mets:
Fernandez ultimately limited the Mets to one run on three hits and a walk in five innings. He departed with a 3-1 lead. The lone damage came on an RBI double by Anthony Recker in the catcher's Mets debut.
The Mets have now received 10 RBIs from their catchers this season, after getting only 48 RBIs during the entire 2012 season.
Fernandez's eight strikeouts were the most ever by a Marlin in his MLB debut. It also matched the most ever by a debuting pitcher against the Mets. Jason Jennings had eight strikeouts with the Colorado Rockies on Aug. 23, 2001, at Shea Stadium, in a game Juan Pierre also started in the outfield.
The last pitcher to win his MLB debut against the Mets remains Tyler Clippard as a Yankee on May 20, 2007.
The past eight starting pitchers to make their MLB debut against the Mets before Fernandez -- Tyler Cloyd,Tommy Milone, Yunesky Maya, John Ely, J.D. Martin, Daniel Barone, Joel Hanrahan and J.A. Happ -- had been a combined 0-5 with a 6.98 ERA.
MURPH! Murphy greeted Marlins reliever A.J. Ramos with a leadoff homer in the bottom of the sixth to pull the Mets within 3-2. It was Murphy's second homer of the homestand. Murphy didn't produce his second homer last season until he went deep twice in a June 27 game against the Chicago Cubs at Wrigley Field.
David Wright tagged up on the left fielder Pierre to reach second base later in the sixth, but Ramos struck out pinch hitter Jordany Valdespin looking and retired Lucas Duda on a groundout to end the threat.
ATCH! After a misplay in left field by Duda on a fly ball resulted in a double and placed two Marlins in scoring position, Scott Atchison entered and bailed out the Mets. He retired Adeiny Hechavarria on a comebacker and struck out Chris Valaika to keep the Mets' deficit at one run.
EX-FILES: Ex-Met Jon Rauch tossed a scoreless seventh inning for the Marlins.
WHAT'S NEXT: Matt Harvey (1-0, 0.00 ERA) takes the mound at Citizens Bank Park against Philadelphia Phillies right-hander Roy Halladay (0-1, 13.50) as the Mets open a three-city, 10-game trip on Monday at 7:05 p.m.