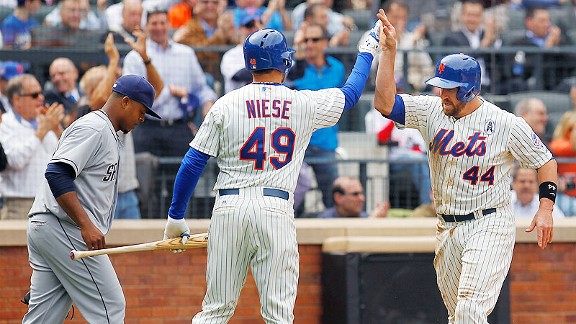 Mike Stobe/Getty Images
John Buck was part of the trade discussions with the Blue Jays from the outset.
PHILADELPHIA -- After the R.A. Dickey trade became official, Toronto Blue Jays GM Alex Anthopoulos said the inclusion of John Buck was essential because his club needed to shed the catcher's $6 million salary.
Still, Mets assistant GM John Ricco said Tuesday, Buck was part of the trade package from the beginning and not a late throw-in to even out money in the deal.
Ricco explained that the Jays wanted Josh Thole as a potential batterymate for Dickey to handle the knuckleball. So the Mets were going to have to go out and get a catcher anyway until Travis d'Arnaud was deemed ready for the majors. And they liked Buck.
"There were multiple levels," Ricco said. "He mentioned that he wanted to make sure he had somebody to catch the knuckleball. So that was where the catching came in. And then we started thinking, 'Well, if we're going to trade them one or two catchers, because he asked for [Mike] Nickeas as well, it would be good to get a catcher back.' We know we're getting d'Arnaud. Buck was in it pretty much from the beginning. And then there was some talk about how do we work the dollars out.
"Sandy [Alderson] did most of the negotiations on how that all played out, but Buck was in the discussion pretty much from the beginning on the catching level and on the dollars level, because I think they mentioned pretty early on that they would have to move some of his money, if not all of it.
"We could have went and got another guy [to catch via free agency]. But we were talking about Buck all the way along. He was as good as the guys we were looking at. It was just a matter of the cost. He was making more than we would have paid if we signed a free agent."
Buck, of course, now has 12 RBIs -- the most ever by a Mets player in the team's first seven games of a season. He is starting in the cleanup slot Tuesday for the fourth time in his major league career.