Dillon Gee had the shortest start of his major league career and the New York Mets had a three-game winning streak snapped with an 8-3 loss to the Philadelphia Phillies on Tuesday night at Citizens Bank Park.
Gee allowed six hits in a four-run second inning, then surrendered solo homers to Ryan Howard, Michael Young and John Mayberry Jr. the following frame. He became the first Met to allow three homers in an inning since Johan Santana on June 8, 2012 at Yankee Stadium, in the southpaw's first start after the historic no-hitter.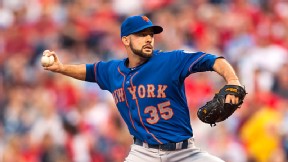 Howard Smith/USA TODAY Sports
Dillon Gee had the shortest start of his major league career.
Gee ultimately was charged with seven earned runs on 10 hits while striking out two in a 56-pitch effort. The three-inning performance replaced a 3 2/3-inning start in Philadelphia on Aug. 22, 2011 as the shortest of Gee's career.
The seven runs allowed by Gee were one shy of matching his career high, which came in that 10-0 loss to the Phillies two seasons ago.
Howard, who had not produced an extra-base hit this season before going deep to open the bottom of the third, now has three hits against Gee in nine career at-bats -- all homers.
Lee (2-0) came within an out of tossing a complete game. Three of the past six complete games against the Mets have been produced by Phillies (Roy Halladay 2011, Roy Oswalt 2010, Cole Hamels 2010).
BUCK SHOTS: John Buck continued his torrid start, belting a two-run homer in the fourth against Cliff Lee to pull the Mets within 7-2.
Buck now has four homers and 14 RBIs. Mets catchers combined to produce five homers and 48 RBIs all of last season.
The Mets have now homered in eight straight games -- matching the franchise record to begin a season. They also went deep in eight straight to open the 1987 season.
LEFT OUT: Lucas Duda was double-switched out of the game for the bottom of the fourth inning when Greg Burke replaced Gee. Jordany Valdespin entered in left field, tripled in his first at-bat and scored on a passed ball to pull the Mets within 8-3 in the fifth. Lee passed on getting retribution in Valdespin's next at-bat, after Valdespin demonstrably celebrated his triple.
WHAT'S NEXT: Jeremy Hefner (0-1, 1.50 ERA) opposes right-hander Kyle Kendrick (0-1, 7.94) in Wednesday's 7:05 p.m. rubber game.