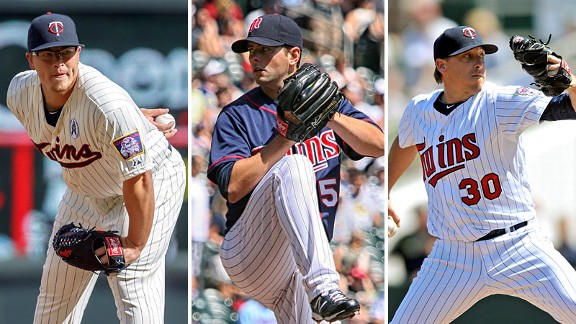 Icon SMI
The Mets face (l to r) Vance Worley, Scott Diamond and Kevin Correia this weekend -- weather permitting.
METS (5-4, third place/NL East) at MINNESOTA TWINS (4-5, fourth place/AL Central)
Friday: LHP Jonathon Niese (1-0, 2.13) vs. RHP Vance Worley (0-1, 5.73), 8:10 p.m. ET
Saturday: RHP Matt Harvey (2-0, 0.64) vs. LHP Scott Diamond (0-0, -.--), 4:10 p.m. ET
Sunday: RHP Dillon Gee (0-2, 7.71) vs. RHP Kevin Correia (0-1, 3.14), 2:10 p.m. ET
Twins short hops
• Left-hander Scott Diamond, a SUNY Binghamton product, is due to be activated from the disabled list for Saturday's start. He underwent Dec. 18 surgery to remove a bone chip from his left elbow. In a rehab appearance Sunday with Class A Fort Myers, Diamond allowed four runs on six hits in an 82-pitch effort spanning five innings. Among American League rookies in 2012, Diamond ranked fourth in wins (12), second in ERA (3.54) and sixth in innings pitched (173).
• Right-hander Vance Worley was acquired from the Philadelphia Phillies with right-hander Trevor May for Ben Revere on Dec. 6, 2012. He is 3-3 with a 5.17 ERA (38.1 IP, 22 ER) in seven previous starts against the Mets.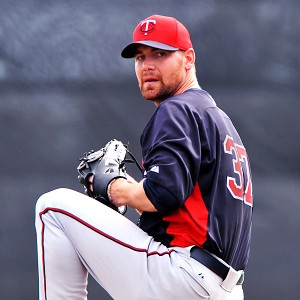 Al Messerschmidt/Getty Images
Mike Pelfrey is not scheduled to face his former team this weekend.
• Center fielder Aaron Hicks' role as leadoff hitter may be in jeopardy. The rookie is off to a 2-for-35 start to his major league career, with 16 strikeouts. He also drew criticism from manager Ron Gardenhire on Wednesday for not running out a ball that ended up being dropped by Kansas City center fielder Lorenzo Cain. Hicks, 23, was the 14th overall pick in the 2008 draft out of high school in Long Beach, Calif. The Mets took college players Ike Davis 18th overall and Reese Havens 22nd overall in that first round.
• The customary Twins lineup is:
Hicks, cf
Joe Mauer, c
Josh Willingham, lf
Justin Morneau, 1b
Ryan Doumit, dh
Trevor Plouffe, 3b
Chris Parmelee, rf
Brian Dozier, 2b
Pedro Florimon, ss
• Mike Pelfrey, who was non-tendered by the Mets in December, signed for a base salary of $4 million with the Twins. He is next due to start Monday, after the Mets leave town. Pelfrey underwent Tommy John surgery last May 1. He was roughed up in Kansas City in his second Twins outing, lasting only two innings. Pelfrey did not allow an earned run in 5 1/3 innings against the Detroit Tigers in his Twins debut five days earlier.
• Twins setup man Jared Burton got to jam on his guitar at the team's hotel Monday with Eddie Vedder. The Pearl Jam singer is friendly with Twins broadcaster Ron Coomer and watched the NCAA men's basketball championship game with the team.
• Outfielder Darin Mastroianni has been dealing with a bone bruise on his left ankle, which he suffered in a March 25 Grapefruit League game.
• Roof-less Target Field, which opened in 2010, has never had a snow cancellation. The field is heated, aiding snow melting. According to the Minneapolis Star Tribune, four games were snowed out while the Twins played for 21 years at outdoor Metropolitan Stadium, before relocating to the Metrodome for the 1982 season.
• Gardenhire and pitching coach Rick Anderson have Mets ties. Gardenhire spent his entire five-year major league career with the Mets, hitting .232 in 710 at-bats from 1981 to '85. Anderson debuted with the Mets in 1986 before being traded the following March to the Royals with Ed Hearn for David Cone.
• The Mets' lone previous visit to Minnesota came in 2004. The Twins swept the series at the Metrodome. Johan Santana limited the Mets to one run in seven innings in the middle game of that series, topping Steve Trachsel. The 15-inning series finale ended with an RBI single by Mike Ryan against Ricky Bottalico.