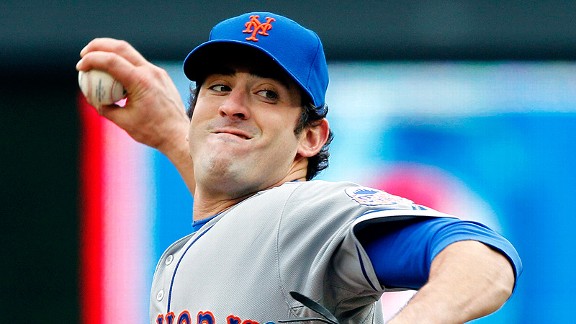 Genevieve Ross/Associated Press
Matt Harvey took a no-hit bid two outs into the seventh innings Saturday.
MINNEAPOLIS -- After Justin Morneau sent a 90 mph slider off the right-field foul pole with two outs in the seventh inning for the homer that spoiled the no-hit bid, Matt Harvey and catcher John Buck momentarily questioned their pitch selection.
"We both looked at each other and said, 'Changeup.' And we both agreed," Buck said. "Shoulda, coulda, wouldas. It wasn't that bad of a pitch. It's just he's a freak."
Had Harvey retired Morneau to complete an inning in which the right-hander already had disposed of Joe Mauer and Josh Willingham, the batterymates agreed, Harvey may very well have completed the second no-hitter in franchise history.
Instead, Harvey limited the Minnesota Twins to one run on two hits in eight innings and departed with his pitch count at 107 in an eventual 4-2 victory.
#33 SP
New York Mets
2013 STATS
Harvey (3-0, 0.82 ERA) became the third pitcher since the end of World War II to open a season with three straight starts of seven-plus innings and three or fewer hits allowed, joining Nolan Ryan and Jim Rooker, according to ESPN Stats & Information.
"I was blowing it foul, but I knew he hit it pretty well," Harvey said about Morneau's homer. "If it was going anywhere, it was going out."
Buck was "talking to it" too.
"I was like: 'Keep hooking. Keep hooking,'" Buck said. "He did a good job. I could tell as I was looking up it wasn't hooking."
Harvey recognized he had a shot at a no-hitter when he returned to the dugout after completing a perfect sixth inning that included two strikeouts.
He did not have a no-hitter in the minors, or at the University of North Carolina, but recalled tossing a couple while playing for his father at Fitch High School in Groton, Conn.
"No, I knew. I knew," Harvey said about his awareness of Saturday's bid. "I peeked a couple of times, but I really didn't know until the fourth or fifth inning or so."
Given his pitch count, Harvey was skeptical Terry Collins would have allowed him to pitch the ninth had the no-hitter remained intact.
Comparing Harvey to a mid-30s Johan Santana coming off shoulder surgery may have been misplaced. But given how Santana's performance and health unraveled shortly after a 134-pitch no-hitter last June 1, Collins dodged a bullet in avoiding having to decide whether to allow Harvey to proceed with a bid.
"On a cold day, I wouldn't expect to go more than 105, 110 [pitches] -- which I haven't done all year," Harvey said.
Said Collins: "I told [pitching coach] Dan [Warthen], we've got a number in mind of pitches."
Collins would not reveal the number postgame.
Could Harvey have envisioned a scenario in which he was pulled from a no-hit bid?
"Uhh, it would have been tough," he said. "It would have been a fight. I would have been fighting for it. I might have dropped the gloves."
A scout at the game noted Harvey's velocity peaked in the seventh as he was going for the jugular against the Twins' top threats -- the kind of ramp-up Justin Verlander displays late in outings.
"I felt good, so why not get a little extra out of it?" Harvey said. "I knew I was probably approaching my max pitch count. I was leaving it all on the table and going out there and trying to put up more zeroes."
Had Harvey gotten past Morneau, might a no-hitter have been in the offing?
"When you talk about the no-hitter, that's the at-bat I felt we needed to get past," Buck said. "Just because you have the righties coming up after that, and then some of the younger, less experienced guys. If you want to shoot for it, that would be the recipe to get it."
"Yeah," Harvey agreed. "You never know. I know the pitch count was getting up. Even if I had it, I don't know if he was going to let me back out there with 107 pitches."
As for the slider that Morneau sent off the foul pole, Harvey said: "It was a good pitch, and he just put a good swing on it. I think we had gone in there three or four times with the slider. Looking back, we probably should have gone with another changeup, or the fastball."
What impressed Buck afterward was that Harvey was not satisfied. He was disappointed with the two walks. Harvey also wanted to review pitch sequences to determine what worked and what needs improvement.
After noting he had not tossed a no-hitter since high school, Harvey said: "I'll be pushing for another one."