DENVER
FIRST PITCH: Out of the snow and into the … more snow?
After Sunday's postponement, the Mets have relocated from Minneapolis to Denver, but the forecast is not exactly better at this stop.
Tonight's forecast, via weather.com: "Periods of snow. Low near 30F. NNE winds at 20 to 30 mph, diminishing to 10 to 15 mph. 2 to 4 inches of snow expected."
Weather-permitting, Dillon Gee opposes right-hander Juan Nicasio in the series opener.
If the four-game series materializes uninterrupted, Aaron Laffey will proceed with Tuesday's start, followed by Jeremy Hefner on Wednesday and Jonathon Niese on Thursday.
Matt Harvey is lined up to face Stephen Strasburg in Friday's opener against the Washington Nationals at Citi Field.
Shaun Marcum may be activated from the disabled list to start Sunday instead of Laffey, assuming Marcum gets through a tune-up on Tuesday.
Read the full pitching breakdown here.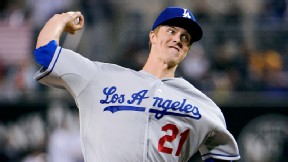 Denis Poroy/Getty Images
Twins manager Ron Gardenhire likened Matt Harvey to Zack Greinke.
Monday's news reports:
• Twins manager Ron Gardenhire told Mike Puma in the Post that Harvey reminded him of Zack Greinke.
"We were trying to figure out guys he reminds you of," Gardenhire told Puma. "It would kind of be hard to place him because he is so poised. But his stuff is comparable to Greinke because he can add and subtract with his fastball and his command of the strike zone and changeup and everything are all solid. Well above-average pitches, so he's kind of like Greinke. ... I would be excited about him. That's a nice looking young man and a good looking pitcher."
Jared Diamond in the Journal notes Harvey's 13-start success in the majors puts him in some interesting company.
• Zack Wheeler's Sunday line with Triple-A Las Vegas looked relatively ordinary -- 5.1 IP, 6 H, 3 R, 3 ER, 0 BB, 8 K. A scout at the game, though, said Wheeler was strong after putting an issue with a blister that affected his first two 51s starts behind him.
"Very good. 94-98 with good life on all pitches," the scout said. "Pitched better than the line indicates. No sign of finger bothering him. Ball was coming out of his hand well. When he gets to the big leagues, the Mets are going to have a nice threesome at the top of their rotation."
Las Vegas ultimately beat Colorado Springs, 5-4, in 11 innings on Reese Havens' walk-off RBI.
Read the full minor league recap here.
• Highly regarded pitching prospect Luis Mateo will get a spot start with Double-A Binghamton tonight before returning to Class A St. Lucie. Mateo will sub for Cory Mazzoni, who will miss a start with arm soreness.
• Read more on the weather situation in Newsday, the Times, Daily News and Star-Ledger.
• From the bloggers … Mets Police turns five today, and has pictures of the Rockies' inaugural game, played at Shea in 1993. … John Delcos at Mets Report says Harvey is proving to be the real deal. … Ed Leyro of Metsmerized Online sees a real Clash of the Titans taking shape when the Nationals' Strasburg and the Mets' Harvey go toe to toe during the team's next homestand.
BIRTHDAYS: Aaron Laffey, scheduled to start Tuesday, turns 28 today. … Jeromy Burnitz, whose July 14, 2003 trade brought Victor Diaz to the Mets, turns 44. … Outfielder Ricky Otero is 41.
TWEET OF THE DAY:
"I thought the Rockies would be a little more Rockier than this!" Dumb and dumber quotes in full force the next 4 days..

— Jeremy Hefner (@jeremy_hefner53) April 14, 2013
YOU'RE UP: How many games will the Mets complete during their four days in Denver?