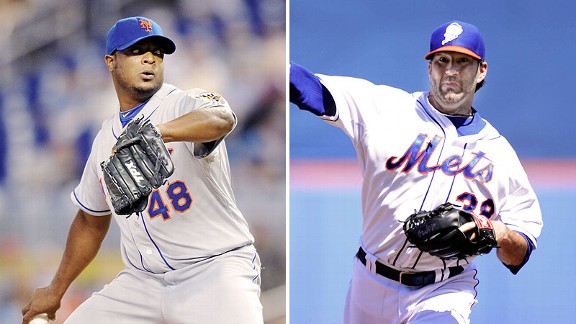 USA TODAY Sports
Frank Francisco is due to begin a rehab assignment Tuesday. Shaun Marcum should throw three to four innings Thursday.
DENVER -- Frank Francisco is set to begin a rehab assignment Tuesday with Class A St. Lucie, a club source told ESPNNewYork.com.
Francisco underwent surgery in December to remove a bone spur from his pitching elbow. He experienced inflammation upon arriving at spring training.
An official rehab assignment starts a maximum 30-day clock after which the pitcher is due to be activated.
Meanwhile, Shaun Marcum now is scheduled to throw a bullpen session Tuesday. He then will throw a three- or four-inning game on a back field in Port St. Lucie, Fla., on Thursday.
That signals Marcum will not be ready to be activated from the DL until the middle of next week at the earliest.