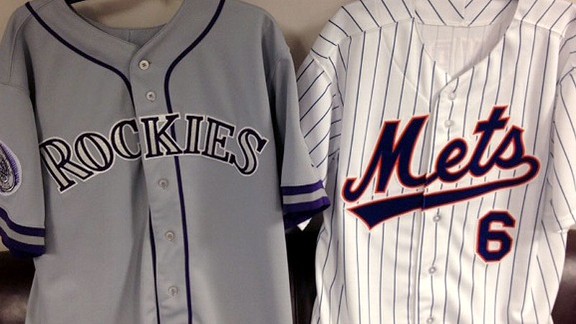 Courtesy of Colorado Rockies
The Mets and Rockies are due to wear replica 1993 uniforms on Tuesday night.
DENVER -- The Mets and Colorado Rockies will honor Jackie Robinson by all wearing No. 42 for Tuesday's day game, which was the intention for Monday's snowed-out affair.
In the night game, the teams will wear replica 1993 uniforms, to commemorate the Rockies' debut in the majors 20 years ago.
The Mets will wear white home uniforms, while the Rockies will wear their '93 road colors.
Colorado played its first-ever game on April 5, 1993 against Jeff Torborg's Mets at Shea Stadium. Dwight Gooden tossed a four-hit shutout and Bobby Bonilla homered in the Mets' 3-0 win.