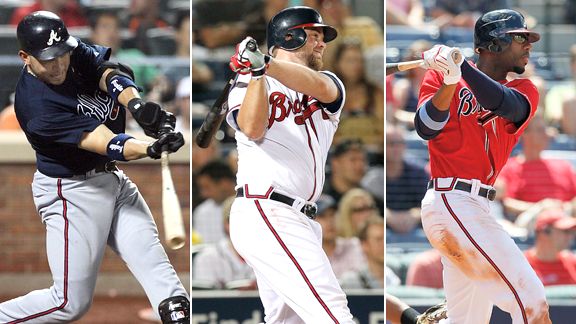 Getty Images
Utility player Omar Infante (left) was a surprise pick as one of five Braves selected for the National League All-Star squad, along with Brian McCann (center) and injured rookie right fielder Jason Heyward (right).
METS (47-38, second place/NL East) vs. BRAVES (50-35, first place/NL East)
Friday: RHP R.A. Dickey (6-1, 2.62) vs. RHP Tommy Hanson (8-5, 4.19), 7:10 p.m. ET
Saturday: RHP Mike Pelfrey (10-3, 3.39) vs. RHP Tim Hudson (8-4, 2.44), 4:10 p.m. ET
Sunday: LHP Johan Santana (6-5, 3.15) vs. RHP Derek Lowe (9-7, 4.40), 1:10 p.m. ET (ESPN)
Braves short hops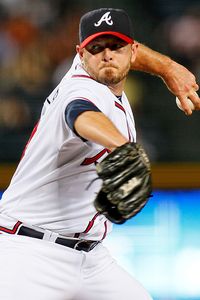 Kevin C. Cox/Getty Images
Billy Wagner has 400 saves and intends to retire after the season, despite his success this year.
Third baseman Chipper Jones indicated in mid-June that he is leaning toward retiring after the season, but he does not intend to broach the topic again in-season, officially as to not to distract from retiring manager Bobby Cox's farewell tour. Jones belted his 432rd career homer Monday off Philadelphia's Roy Halladay, moving past Cal Ripken Jr. for 38th all time. Jones is hitting .318 (21-for-66) with three homers and 11 RBIs in 66 at-bats since June 15. … The Braves placed five players on the National League All-Star squad, include surprise pick Omar Infante, a utility player. The others: catcher Brian McCann, right-hander Tim Hudson, second baseman Martin Prado and right fielder Jason Heyward. … Heyward, who bruised his left thumb sliding into second base May 14, is on the disabled list and is due to begin taking batting practice this weekend. He had played nearly seven weeks with the injury before landing on the DL on June 30. Heyward remains hopeful to play in Tuesday's All-Star Game after being voted as a National League starter. The 20-year-old Heyward is the second-youngest starter ever elected -- three months older than Ken Griffey Jr. when he appeared in his first All-Star Game in 1990. … McCann is making his fifth straight appearance. … Prado, who had three homers in a five at-bat span during the last series in Philadelphia, will replace injured Phillie Chase Utley as the NL's starting second baseman. Prado's 121 hits lead the National League. The total also ranks third in Braves history for hits before the All-Star break. Ralph Garr had 149 hits in 98 games before the break in 1974 and 119 hits in 88 games before the break in '71. … Nate McLouth has reported to Triple-A Gwinnett, and is slated to begin a rehab assignment Friday. He suffered a concussion on June 9 in a collision with Heyward in the eighth inning at Arizona pursuing a fly ball. … First baseman Troy Glaus, who had been the lone Brave to appear in the team's first 80 games, returned Tuesday after missing three games with a swollen left knee that required a cortisone shot. He is hitting .120 (6-for-50) with one homer and three RBIs in 15 games since June 18. … Closer Billy Wagner, who turns 39 on July 25, notched his 400th save on June 25, becoming the fifth pitcher to reach that milestone. Wagner struck out the side against the Detroit Tigers that night to preserve a 3-1 lead. Wagner needs 22 strikeouts to match Jesse Orosco (1,169) for the most Ks in major league history by a left-handed reliever. (Orosco has 1,179 career strikeouts, but 10 came as a starting pitcher.) Despite a vesting option for next season that would pay him $6.5 million, Wagner intends to retire at season's end. The all-time saves leaders through Wednesday: Trevor Hoffman 596, Mariano Rivera 545, Lee Smith 478, John Franco 424 and Wagner 404. The next-highest active totals: newly signed Marlin Armando Benitez at 289, followed by Francisco Cordero at 274 and Francisco Rodriguez at 263. … Right-hander Tommy Hanson threw 22 of 29 first-pitch strikes in his last outing. He allowed one run (unearned) in 6 2/3 innings in a 4-1 win against the Florida Marlins. … Kris Medlen, who joined the rotation when Jair Jurrjens suffered a hamstring injury that cost him two months, remained a starting pitching once Jurrjens returned. Kenshin Kawakami (1-9, 4.48 ERA) instead was assigned to the bullpen. Kawakami, however, has not appeared out of the bullpen since the reassignment. In his last appearance, he picked up his first 2010 win by limiting Detroit to one run and two hits in seven innings in his final start, on June 26. He was the first pitcher in franchise history to open a season 0-9. … Left fielder Matt Diaz was activated last week after a long battle with an infected right thumb. Diaz twice required surgery, most recently in May. The persistent trouble is now thought to be the result of an infected palm frond splinter, which apparently entered Diaz's thumb while doing yard work at home four years ago. … Since ending a nine-game losing streak on April 30, Atlanta has the best record in the majors at 42-21. The Braves are 14-1-3 in their last 18 series. … Cox intends to retire at season's end. He ranks fourth on the all-time managerial win list with 2,463. … The Braves are a major league-best 30-10 at home. … Left-hander Jonny Venters leads major league rookie relievers (minimum 25 appearances) in ERA, opponent batting average and strikeouts. … Tim Hudson pitched eight innings, but lost 3-2 to the Florida Marlins in his most recent outing as Dan Uggla homered and drove in all three runs.
Matchups
Dickey vs. Braves (career: 0-0, 15.00 ERA)
Omar Infante .333, 1 RBI, 3 AB
Eric Hinske .200, 10 AB
Troy Glaus .000, 7 AB
Melky Cabrera .000, 4 AB
Gregor Blanco .000, 1 AB
Brian McCann .000, 1 AB
Pelfrey vs. Braves (career: 4-5, 5.21 ERA)
Eric Hinske 1.000, 1 HR, 1 RBI, 3 AB
Martin Prado .467, 1 HR, 1 RBI, 15 AB
Brian McCann .419, 1 HR, 7 RBIs, 31 AB
Gregor Blanco .364, 1 RBI, 11 AB
Melky Cabrera .333, 9 AB
Matt Diaz .333, 6 AB
Chipper Jones .286, 2 HR, 4 RBIs, 21 AB
Yunel Escobar .188, 1 RBI, 16 AB
Troy Glaus .182, 1 RBI, 11 AB
Omar Infante .167, 1 RBI, 6 AB
David Ross .000, 1 AB
Santana vs. Braves (career: 1-5, 2.25 ERA)
Matt Diaz .522, 1 HR, 3 RBIs, 23 AB
Troy Glaus .346, 2 HR, 6 RBIs, 26 AB
Yunel Escobar .333, 1 RBI, 21 AB
Chipper Jones .300, 1 RBI, 20 AB
Brian McCann .280, 2 HR, 2 RBIs, 25 AB
Martin Prado .214, 14 AB
Melky Cabrera .154, 13 AB
Omar Infante .107, 3 RBIs, 28 AB
Eric Hinske .000, 5 AB
David Ross .000, 3 AB
Hanson vs. Mets (career: 1-1, 0.00 ERA)
Josh Thole .500, 2 AB
Jason Bay .400, 5 AB
Jose Reyes .333, 3 AB
Jeff Francoeur .200, 5 AB
David Wright .000, 5 AB
Angel Pagan .000, 4 AB
Ike Davis .000, 2 AB
Henry Blanco .000, 1 AB
Hudson vs. Mets (career: 10-5, 3.77 ERA)
Rod Barajas .500, 1 HR, 3 RBIs, 10 AB
Jason Bay .385, 1 HR, 3 RBIs, 13 AB
Angel Pagan .333, 2 RBIs, 6 AB
Jeff Francoeur .333, 3 AB
Alex Cora .300, 10 AB
Jose Reyes .275, 1 HR, 3 RBIs, 51 AB
David Wright .227, 1 HR, 4 RBIs, 44 AB
Henry Blanco .000, 5 AB
Lowe vs. Mets (career: 3-4, 7.01 ERA)
Rod Barajas .556, 2 RBIs, 9 AB
Josh Thole .500, 3 RBIs, 4 AB
Chris Carter .500, 1 RBI, 2 AB
David Wright .368, 3 RBIs, 19 AB
Henry Blanco .333, 1 RBI, 6 AB
Jose Reyes .286, 1 RBI, 7 AB
Jeff Francoeur .217, 1 HR, 4 RBIs, 23 AB
Alex Cora .143, 7 AB
Angel Pagan .111, 2 RBIs, 9 AB
Jason Bay .000, 1 RBI, 15 AB
Ike Davis .000, 1 AB
Last series results:
Mets split 1-1 at Turner Field, May 17-18 (AP game recaps)
Mets 3, Braves 2: Mike Pelfrey wasn't distracted by a pregame meeting of the Mets' top executives. A focused Pelfrey gave the Mets a lift with 7 2/3 strong innings and New York beat the Atlanta Braves to end a five-game losing streak. Mets chief operating officer Jeff Wilpon met with manager Jerry Manuel, general manager Omar Minaya and assistant general manager John Ricco before the game. Pelfrey (5-1) became the first Mets starting pitcher to win a game in May. He was perhaps an unlikely choice to end the drought as he improved to only 3-10 in 19 career starts in the month. The right-hander said he wasn't aware of the rotation's month-long drought. Rod Barajas gave the Mets a 2-0 lead with a two-run double off Derek Lowe (5-4) in the second. Pedro Feliciano struck out Brian McCann with the bases loaded in the eighth to protect a one-run lead. Francisco Rodriguez pitched the ninth for his sixth save. With two outs, Yunel Escobar walked and stole second. Rodriguez struck out Nate McLouth to end the game. Pelfrey gave up seven hits and two runs, walked two and struck out three. Pelfrey also ended the Mets' streak of five straight road losses. With the win, the Mets moved out of last place in the NL East, one-half game ahead of Atlanta. Lowe gave up four hits and three runs in seven innings. Barajas drove in Chris Carter, who led off the second with a double, and Ike Davis, who was hit by a pitch, with his two-run double. Carter was 1-for-2 and drove in a run and is hitting .400. He started in right field for Jeff Francoeur. Eric Hinske had three hits, including his second homer. He hit an 0-2 pitch from Pelfrey over the right-field wall in the fifth to cut the Mets' lead to 2-1. Jose Reyes' ninth stolen base helped the Mets push the lead back to two runs in the sixth. Reyes singled, moved to second on a sacrifice and stole third before scoring on Carter's groundout to second. Martin Prado, the reigning NL player of the week, led off the sixth with a double and later scored on Chipper Jones' sacrifice fly to cut New York's lead to 3-2. The Mets protected the lead in the eighth after McLouth hit a leadoff single, moved to second on a sacrifice and raced to third on a wild pitch from Pelfrey. McLouth broke for the plate on Prado's grounder to Reyes at shortstop. Reyes threw to the plate to start a long rundown which finally ended with McLouth out and Prado standing on second base. Feliciano gave up Jason Heyward's infield single before walking Jones to load the bases. He struck out McCann to end the threat.
Braves 3, Mets 2: The Braves struggled with the fundamentals in the ninth inning. No worries. David Wright made the biggest blunder of all. After failing twice to get down sacrifice bunts, Atlanta still beat New York when Wright's throwing error allowed pinch runner Brent Clevlen to trot home with the winning run. Brian McCann opened the bottom of the ninth with a single off Pedro Feliciano (1-2), the Braves' first baserunner since the third inning. New York pitchers had retired 16 in a row until McCann reached and was replaced by Clevlen. Yunel Escobar fouled off two attempts at a sacrifice bunt against Jenrry Mejia, but managed something even better -- a walk. Melky Cabrera fell into an 0-2 hole, fouling off two more bunt tries, then hit a high chopper toward Wright. The third baseman threw on the run, but the ball tailed into Cabrera and got by first baseman Ike Davis. Clevlen came in with the winning run while the ball rolled down the right-field line, making a winner of Billy Wagner (3-0) against his former team. In addition to his throwing error, Wright struck out three times, including in the top of the ninth with the potential go-ahead run at third and only one out. Troy Glaus hit a two-run homer off Mets starter Johan Santana in the third, but New York tied it in the fifth with solo homers by Davis and Jeff Francoeur. Santana went seven strong innings, giving up only five hits, and retired his last 13 hitters. Glaus has been one of Atlanta's hottest hitters in May, batting .371 with four homers and 18 RBIs after getting off to a rough start with his new team. He homered with two outs after Chipper Jones singled. Atlanta's Kris Medlen, starting for the second time in place of injured Jair Jurrjens, allowed two runs and four hits in 6 1/3 innings. Peter Moylan came on in the seventh to get Francoeur on a 5-4-3 double play with runners at first and second. Wagner escaped a major jam in the top of the ninth. Luis Castillo started the inning by barely beating out an infield single. Atlanta manager Bobby Cox came to the top step of the dugout to complain to first-base umpire Ron Kulpa, and continued to yap when Castillo moved to second on a wild pitch. Whatever Cox said, it was enough to get him thrown out for the 155th time in his career and second time this season. Gary Matthews Jr. bunted Castillo over to third, but that was as far as the runner got. Wagner fanned Wright and Davis, the latter with a slider that swept out of the strike zone after fastballs of 96 and 98 mph. Medlen breezed through the first three innings, allowing only a walk. Castillo led off the fourth with the first New York hit, only to be erased with a double play. But the Mets tied it with two swings in the fifth. Leading off, Davis ripped a high fastball into the right-field seats for his fourth homer of the season. After Angel Pagan flied out, Francoeur got hold of a breaking ball that hung right over the plate, lifting a towering fly that settled a few rows back in left for his fifth homer. Francoeur, a native of Atlanta who once looked like a rising star for the Braves, was mostly booed by his hometown crowd as he circled the bases. The homer broke an 0-for-20 slump that had prompted the Mets to bench him in the two previous games.