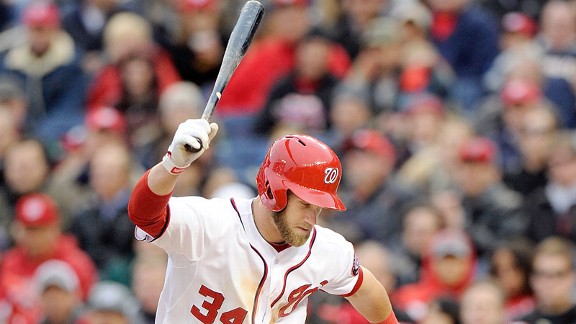 Greg Fiume/Getty Images
A reaction of frustration is just what Matt Harvey will be looking for from Bryce Harper on Friday.
It's all good that Matt Harvey is keyed up knowing that he's matched up against Stephen Strasburg.
But let's not forget that he has to get through the Nationals lineup. And the hitter who provides the most interesting matchup is Bryce Harper.
The 20-year-old Harper is 20-for-55 (.364) this season with a 1.089 OPS, five home runs and 11 runs batted in. His signatures on what could be the start of an MVP campaign are home runs in his first two at-bats of the season, and a 4-for-5 on Wednesday against the Marlins on a day in which he was sick and needed an IV prior to the game.
Harper had a very good 2012 against the Mets, hitting .295 with three home runs, beat them with a 12th-inning walk-off hit in his debut against them, and had a four-hit game against them.
But the last time Harper faced the Mets -- last September 12 -- he struggled, going 0-for-4 with a pair of strikeouts.
The Mets starter that day was Harvey.
Harper took nine swings in three turns against Harvey, fouling off five, missing three (including a changeup for one of two strikeouts), and flying out softly to left field on the one he was able to put into play, which happened to be the slowest of the six fastballs Harvey threw to him (93 miles-per-hour).
The holes in Harper's game are hard to find, but one is that he (like many other hitters) has not yet established himself against some of the game's hardest throwers -- the guys in Harvey's class.
Harper has faced 18 right-handed pitchers whose average fastball over the last two seasons was 94 miles-per-hour or higher.
Basically, this is a group of the hardest-throwing relievers, mixed with starters who fit Harvey's velocity profile, like the Cubs' Jeff Samardzija and the Brewers Wily Peralta.
If we include postseason play, Harper is 2-for-33 with 14 strikeouts and no walks against that group since his career began.
He came up empty of 27 of the 77 swings he took, a 35 percent miss rate that was more than 10 percentage points higher than his miss rate against other pitchers. He couldn't catch up to the fastball and was vulnerable to the varied offspeed offerings that came his way.
If you talk to any major-league manager about matchups, they'll always tell you that they tell their pitchers to stick to their strength and not worry about anything else.
In Harvey's case, that would be sound advice, since Harper hasn't proven that he's up to this sort of challenge just yet.