Center fielder Brandon Nimmo had a six-hour bus ride with his Class A Sand Gnats teammates from their home ballpark in Savannah, Ga., to a series in Greensboro, N.C. The South Atlantic League squad then bused another 10 hours for its next series, in Lakewood, N.J., this past weekend.
Then Sunday night into Monday, the team headed back from New Jersey to Georgia.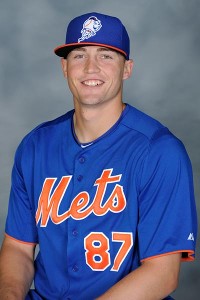 Courtesy of New York Mets
Brandon Nimmo
Nimmo, the Mets' first-round pick (13th overall) in 2011, took a South Atlantic League-leading .424 batting average back home with him.
"It's baseball, so we're going to go through cold streaks and hot streaks," Nimmo said. "This is a hot streak right now. I'm going to go through a period where I'm not doing very well. We're just going to try to keep this going as long as possible, just be consistent. But, yeah, there's a reason people don't hit .400 in baseball."
Said Savannah manager Luis Rojas: "You could see his talent is just kicking in as he's seeing higher-level competition. He's going to get better and better. Each time he keeps moving up the ladder and sees better competition, he's going to be up right there with it."
Nimmo signed for $2.1 million on Aug. 15, 2011 -- just before the midnight deadline. Holding out until the final moment, which yielded Nimmo about $500,000 over slot for the pick, did deprive him of a couple of months of playing in the Gulf Coast League at the end of that season.
That experience might have been particularly valuable to Nimmo, since he hails from Wyoming and primarily had been playing American Legion ball as an amateur.
Minus that experience, Nimmo had a relatively steep learning curve with Brooklyn last year -- although he continually improved as the New York-Penn League season went on and he got more acclimated. He finished with a .248 average, six homers and 40 RBIs in 266 at-bats.
"It could have been something, but that's not how the cards played out," Nimmo said about the decision to wait until the final moment to sign. "I'm pretty happy with where we are right now. I think I'm just going to continue to need more reps and face more pitchers. Really, it was just a huge jump from high school to the New York-Penn League. All of a sudden now you're facing the best out of college. It just took me a little bit to adjust and see it every day."
How did the 20-year-old Nimmo improve as last season went on?
"The game kind of slowed down," he said. "The more you see something, the more repetitions you get, the easier it becomes. And that made it more like back when I was playing Legion ball. I was able to react to things and think things ahead instead of just being a step behind the whole time. At the beginning of the year I was feeling my way around, still trying to get my feet wet on how this routine works. June was the first time I had ever really played a night game in pro ball. I didn't know how that routine worked.
"We didn't show up six hours before the game in Legion ball. We'd show up an hour, two hours before. I maybe hit in the cage and then went out and played. Now, it's your job and you're playing against high-level competition every day. You have to get ready mentally and physically. It's just a little different way of getting ready."
Because of the climate in his native Wyoming, Nimmo now spends much of January and February, before reporting to camp, training at the University of Arkansas, where he committed before turning pro. His agent, Tom Little, also represents Razorbacks products Zack Cox (2010 first round/Cardinals) and James McCann (2011 second round/Tigers). Little suggested that duo would be good workout partners for Nimmo.
"I developed relationships with them, and obviously it's expanded from there," Nimmo said.
As for training at the university he spurned to turn pro, Nimmo added: "They all say if it was their son they would have done the same thing. There's no hard feelings."