Kirk Nieuwenhuis has been demoted to Triple-A Las Vegas to clear a roster spot for outfielder Juan Lagares.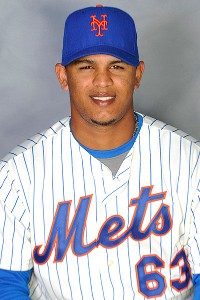 Courtesy of New York Mets
Juan Lagares
Nieuwenhuis, used early on as a defensive replacement for Lucas Duda but getting few at-bats, hit .125 with one RBI and one walk in 16 at-bats. He started only three of the Mets' first 17 games.
Lagares, 24, was hitting .346 with three homers and nine RBIs in 78 at-bats with Triple-A Las Vegas. He walked four times.
"He's an aggressive hitter," said one scout who has watched Lagares this season. "He doesn't fit the real profile of what the Mets are trying to accomplish. He's not a work-the-count guy. I'm not going to say the Mets teach looking for walks, but he doesn't have a strong history of walking or focusing on on-base percentage. He wants to hit. And he wants to hit early in the count. And he's an aggressive hitter.
"I like him. He's a very instinctive player. He runs the bases well. He gets out of the box. He always plays hard. He runs good routes in the outfield. He throws to the correct base. He does a lot of things well. And, I think, he's going to play in the big leagues. He's not just going to go up there. He's going to go and he's going to stay for a while."