Jonathon Niese and the New York Mets may have dodged a bullet.
Niese departed in the third inning after being struck on the inside of his right ankle with a comebacker off the bat of Los Angeles Dodgers second baseman Mark Ellis. X-rays were negative, and Niese is listed as day-to-day with a bruise.
Meanwhile, after knocking out Niese, Ellis finished off the Mets, too. He delivered a game-tying solo homer against Robert Carson in the fifth, then a tie-breaking three-run shot against Brandon Lyon two innings later as the Dodgers beat the Mets, 7-2, Tuesday night at Citi Field.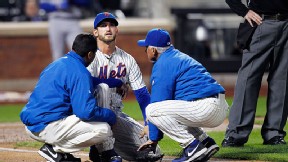 Jeff Zelevansky/Getty Images
Jon Niese was forced from Tuesday's game in the third inning after being struck in the lower right leg with a comebacker.
If Niese were to miss a start, Collin McHugh would be the most logical option. He is on the 40-man roster, and is 2-0 with a 1.93 ERA in four starts at Triple-A Las Vegas. Zack Wheeler, hoopla aside, walked six in 4 1/3 innings in his last 51s start. Meanwhile, neither Double-A prospect Rafael Montero (3-0, 1.59 ERA) nor newly signed ex-Yankee D.J. Mitchell is on the 40-man roster. Montero doesn't need to be added to the roster next offseason, either.
CLAYTON'S PLACE: Clayton Kershaw, who typically dominates the Mets, required 111 pitches to navigate five innings. He departed with the score 2-2 and received a no-decision. It marked Kershaw's shortest outing since Opening Day 2012, when he lasted only three innings against the San Diego Padres.
Kershaw retired the first eight Mets before stumbling against an unlikely batter. Carson -- in his first major league plate appearance, and only the 16th plate appearance of his seven-year pro career -- drew a two-out walk in the third. Kershaw then also walked Ruben Tejada. Daniel Murphy and David Wright followed with consecutive RBI singles as the Mets took a 2-1 lead.
Kershaw is now 5-0 in seven career starts against the Mets. His career ERA against the Amazin's rose to 1.62.
Kershaw entered the game with the third-best ERA in major league history of any pitcher who had made five-plus starts against the Mets (1.37). That trailed only Doc Medich (0.85) and Mark Prior (1.03).
SUPER SUB: Carson took over for Niese in the third and offered a credible appearance in his longest outing since he was a starter with Double-A Binghamton in 2011.
Carson logged 2 1/3 innings and departed after the solo homer by Ellis.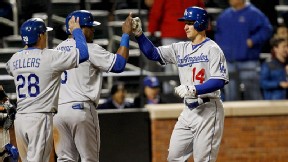 Jeff Zelevansky/Getty Images
Mark Ellis homered twice against the Mets on Tuesday night.
Carson joined the Mets on Sunday when Aaron Laffey was designated for assignment. When Shaun Marcum is activated for Saturday's start against the Philadelphia Phillies, it is conceivable Carson sticks around and another reliever -- Josh Edgin (who surrendered a two-run double in the eighth to A.J. Ellis) or seemingly less likely Jeurys Familia -- is demoted.
DEBUTANT: Juan Lagares made his major league debut in center field. He entered in the top of the fifth inning on a double-switch when Carson departed. Lagares led off in the bottom half of that frame and flied out to the track in left field against Kershaw. He finished 1-for-2, singling against left-hander Paco Rodriguez in his seventh for his first major league hit.
WEB GEMS: Tejada, whose six errors have received considerable hype, appears to have turned a corner.
He turned in a pair of highlight-reel plays Tuesday night. Tejada leaped to catch a liner from Andre Ethier to strand two in the top of the third. An inning later, Tejada slid to his left and came up firing to retire Justin Sellers at first base for the second out of the fourth.
WHAT'S NEXT: Matt Harvey bids to become the first Met to earn the win in his first five starts of a season since Pedro Martinez in 2006. The franchise record belongs to Frank Viola, who won his first seven starts in 1990.
According to ESPN Stats & Information, only two Mets have gone 5-0 in April: Pedro in '06 and Dwight Gooden in 1988.
Harvey opposes left-hander Ted Lilly, who is making his first major league appearance since May 23, 2012. Lilly is returning from labrum surgery on his left shoulder.