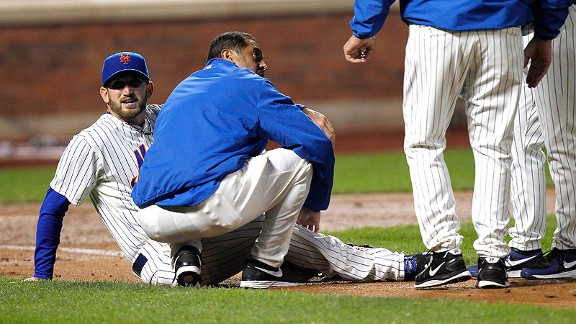 Jeff Zelevansky/Getty Images
Jon Niese receives attention after being struck with a third-inning comebacker off the bat of L.A.'s Mark Ellis.
Jonathon Niese's right foot went numb once a third-inning comebacker struck him and knocked him from Tuesday's game. But the southpaw expects to make his next start, Sunday against the Philadelphia Phillies. X-rays were negative and Niese was diagnosed with a bruise.
Niese, though, will know more Thursday, after attempting a between-starts bullpen session.
"It felt kind of like a stinger, like it hit a nerve," Niese said after the Mets lost to the Los Angeles Dodgers, 7-2. "It obviously was painful. But then it kind of locked up down there. I couldn't move my toes. It was kind of scary at first. But then, coming in here, letting it settle down, it's just a bruise."
Terry Collins said the ball struck Niese between the Achilles' tendon and ankle bone.
"If you're ever going to get hit there, I guess that would be as good a spot as any," Collins said. "Certainly the fear was as soon as he couldn't move his foot … [it] was a bad sign for us. Obviously, he's fine. He's walking around. He's getting better as the night goes along. So he'll be OK. He shouldn't miss a start."
Niese iced the right-leg injury multiple times.
"It's a lot better than what I thought it was going to be," he said. "It's just a bruise. Initially it hurt pretty bad."