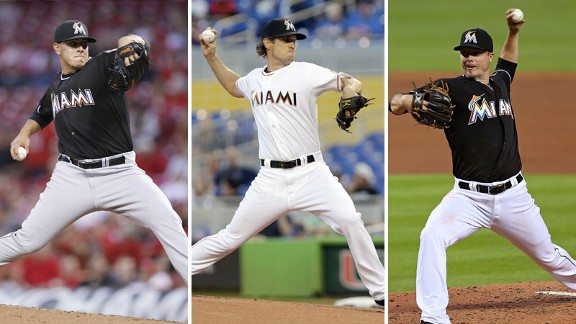 Associated Press/Getty Images
The Mets face (l to r) Jose Fernandez, Kevin Slowey and Wade LeBlanc during their series in Miami this week.
METS (10-13, fourth place/NL East) vs. MIAMI MARLINS (6-19, fifth place/NL East)
Monday: RHP Matt Harvey (4-0, 1.54) vs. RHP Jose Fernandez (0-2, 4.50), 7:10 p.m. ET
Tuesday: RHP Jeremy Hefner (0-2, 5.12) vs. RHP Kevin Slowey (0-2, 2.43), 7:10 p.m. ET
Wednesday: RHP Dillon Gee (1-4, 5.96) vs. LHP Wade LeBlanc (0-4, 6.20), 12:40 p.m. ET
Marlins short hops
• Right fielder Giancarlo Stanton finally homered Saturday, in his 75th plate appearance of the season. Stanton, who led the National League in slugging percentage in 2012, added two more homers Sunday. He went RBI-less in his first 12 games of the season, but has produced nine RBIs in his past seven games.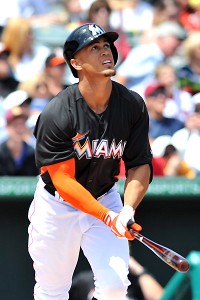 Steve Mitchell/USA TODAY Sports
Giancarlo Stanton has belted three homers in his past two games.
• Shortstop Adeiny Hechavarria (bruised right elbow) is due to begin a rehab assignment Monday with Class A Jupiter and is not expected to be activated until after the Mets series. Chris Valaika started four straight games at the position before Nick Green got the nod Sunday. Green homered for the first time since 2009.
• Rookie Jose Fernandez has allowed nine runs in nine innings over his past two starts. He has been kept on a tight pitch count. He has thrown 80, 85, 79 and 79 pitches in his four major league starts. Fernandez, who allowed only two homers in 138 1/3 minor league innings (all in Class A), surrendered his first big league long ball Tuesday against the Minnesota Twins. Oswaldo Arcia took the 20-year-old Fernandez deep.
Fernandez, a Cuban defector, was taken with the 14th overall pick in the 2011 draft out of high school in Tampa. The Mets selected outfielder Brandon Nimmo one pick earlier. Besides Fernandez, three of the other first 100 picks in that '11 draft have reached the majors: right-hander Trevor Bauer, third overall, UCLA, Arizona Diamondbacks; right-hander Dylan Bundy, fourth overall, Owasso (Okla.) H.S., Baltimore Orioles; and outfielder Jackie Bradley, 40th overall, University of South Carolina, Boston Red Sox.
• Owner Jeffrey Loria created another stir when he was accused in a report of dictating which game of a day-night doubleheader Fernandez pitched in Minnesota. Loria denied a role.
• Ex-Minnesota Twins right-hander Kevin Slowey is winless through five starts despite a 2.43 ERA. The Marlins have scored a total of six runs in Slowey's five outings. Slowey did not appear in the majors last season. He made eight Triple-A starts with the Cleveland Indians in 2012 before being diagnosed with a stress fracture in his rib cage.
Mike Redmond, the first-year Marlins manager, caught Slowey's major league debut on June 1, 2007. Slowey limited Bob Geren's Oakland Athletics to one run in six innings in an eventual 3-2, 10-inning win.
• Stony Brook University product Tom Koehler joined the Marlins' bullpen on April 19, replacing John Maine, who was designated for assignment. Maine, in his first major league duty since 2010 with the Mets, allowed 15 hits and 10 earned runs in 7 1/3 innings spanning four appearances.
• Closer Steve Cishek has three losses and a blown save and has allowed runs in six of 11 appearances this season. He earned his third save Sunday despite surrendering a homer to the Cubs' Dioner Navarro.
• Rookie Joe Mahoney is day to day with right hamstring tightness. Mahoney had taken over for plug Greg Dobbs at first base in Casey Kotchman and Logan Morrison's absences before this hamstring issue arose. Mahoney is a waiver claim from the Baltimore Orioles. He played at Triple-A Norfolk in 2012. The 26-year-old Mahoney was activated from the DL on April 17 after recovering from an oblique injury.