MIAMI -- David Wright's last two attempts to play at Marlins Park each have been sidetracked.
Wright is being held out of Monday's series opener against the Miami Marlins because of neck stiffness.
Wright said the issue arose during the first couple of innings of the series finale against the Philadelphia Phillies on Sunday. It got worse as that game progressed. He hoped he would wake up with improvement Monday, but the stiffness -- which runs down the right side of his neck to his back -- worsened.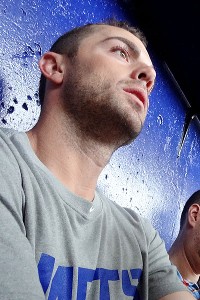 Adam Rubin
David Wright is sidelined Monday with neck stiffness.
"You figure hopefully one day and then be back in there tomorrow," Wright said. "I just wouldn't be good to anybody going out there today. ... It's just tough to turn. Obviously it's more down my right side, so it's tough to throw."
Wright added: "I'm very unconcerned about it. It's not something I'm worried about."
Wright had been scratched from his last scheduled game at Marlins Park -- a World Baseball Classic matchup with the Dominican Republic in March -- because of an intercostal strain on his left side.
Terry Collins also hoped the injury improves within a day.
"He wanted to try to get ready today and I said, 'It doesn't make any sense.' If you have those kind of muscle spasms, you can loosen them up and if you don't be careful they can come right back," Collins said. "So I just wanted to give him the day."
Wright was waiting to be examined Monday by a local doctor. He spent most of his time pregame in the visiting clubhouse trainer's room at Marlins Park.
"We're waiting to have someone look at him today," Collins said.
Justin Turner is starting at third base and batting second in Wright's absence.
"Somebody else has got to pick it up," Collins said. "I mean, he's our star. You take your star out of the lineup, you change the lineup pretty much. What we've got to do is jump on the back of somebody else and hopefully they carry us for a while until he gets back."
Wright volunteering the issue to the staff, though, indicates there is some gravity to the issue. He usually keeps injuries closely guarded.
"He played with a broken back. A stiff neck is not something he's going to come out of the lineup for," Collins said, referring to a 2011 stress fracture Wright played with for a month before seeking a diagnosis. "I asked him about coming out yesterday and he said he was fine. He thought he could finish, which he did. I had suspicions along with the trainers that today he might be a little stiffer than he was. I was just not going to take a chance today."
Said Wright: "I like to try to play through things, but this is just something where it would be dumb to go out there -- not just for hurting it more, but I would be no good to the team today."