WHAT IT MEANS: The New York Mets were three outs from victory twice.
Which made the ending doubly gut-wrenching.
After Bobby Parnell failed to hold a one-run lead in the ninth, Shaun Marcum also failed to do so in the 15th.


The Mets ultimately lost to the Miami Marlins, 4-3, when Rob Brantly had an RBI single and Nick Green delivered a game-ending sacrifice fly against Marcum.
After the Mets used all seven relievers, Marcum had entered in the 14th. He had tossed 71 pitches Saturday in his Mets debut. The Mets can actually delay or skip Marcum's next turn if necessary because Thursday is a scheduled off-day for the team. The injury-prone Marcum last pitched in relief in 2007.
Matt Harvey was deprived of the third 5-0 April in franchise history.
Bidding for his third save this season, Parnell failed to hold a one-run lead in the ninth. He surrendered a leadoff double to Justin Ruggiano, then watched as pinch-hitter/defensive replacement Collin Cowgill broke backward in center field on a ball off the bat of Brantly that dropped in front of him. Green then delivered a game-tying sacrifice fly.
The Mets had taken a 3-2 lead in the top of the 15th against ex-teammate Jon Rauch on Ruben Tejada's run-scoring infield single.
The Mets (10-14) have lost five straight and fell a season-worst four games under .500. They now are 5-1 in Harvey starts and 5-13 otherwise this season.
The Mets used 21 players.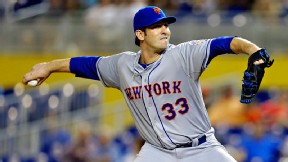 Lynne Sladky/Associated Press
Matt Harvey received a no-decision after limiting the Marlins to one run in 5 1/3 innings.Technically, it was the second blown save in four chances for Parnell this season, although the other one was the result of Tejada airmailing an eighth-inning throw in Colorado.
Pedro Martinez (2006) and Dwight Gooden (1988) remain the only Mets pitchers with 5-0 Aprils.
John Buck did match a franchise record with his ninth homer of April.
The Mets went 0-for-16 with runners in scoring position before Tejada's run-scoring infield single. That would have bested the franchise record 0-for-15 set May 30, 2006, in a complete game by Miguel Batista for the Arizona Diamondbacks, according to research by ESPN Stats & Information.
WRIGHT STUFF: David Wright, despite suffering from a stiff neck before the game, pinch hit in the 13th with two outs against Rauch. Wright struck out looking and departed.
HARVEY'S BETTER: Harvey outlasted Marlins rookie Jose Fernandez, but not by much.
With his pitch count at a career-high 121, Harvey was pulled with two runners on and one out in the sixth by Terry Collins with the Mets leading 2-1.
In bids for redemption after a rough homestand, left-hander Robert Carson entered and retired Brantly on a flyout. Collins then summoned Scott Atchison, who retired Green on a flyout, too.
Harvey's line: 5.1 IP, 7 H, 1 R, 1 ER, 2 BB, 7 K.
His pitch count matched the fourth-highest in the majors this season, trailing only starts by Justin Verlander (126 pitches), Cliff Lee (122) and Bud Norris (122).
Gooden appears to have become a sincere Harvey aficionado. He tweeted Harvey's current K count after each of Harvey's seven strikeouts.
The lone run against Harvey opened the scoring in the third inning. Juan Pierre and Donovan Solano singled consecutively to open the frame. Giancarlo Stanton then grounded into a run-scoring double play.
The seven hits were the most surrendered by Harvey this season.
The 20-year-old Fernandez, who has been kept on strict pitch counts, departed after four innings and 81 pitches. He allowed three hits and two runs while walking three and striking out four.
Curiously, Fernandez was allowed to hit against Harvey in the bottom of the fourth with two on and two out, even though Stony Brook University product Tom Koehler replaced him on the mound to start the following half-inning.
Fernandez struck out and Harvey maintained the Mets' 2-1 lead.
Koehler, incidentally, tossed three scoreless innings in relief.
BUCK SHOT: In his first game back in Miami since he was traded to Toronto and then to the Mets last offseason, Buck belted a 439-foot, two-run homer off Fernandez in the fourth to give the Mets a 2-1 lead. It was Buck's ninth homer, matching Carlos Delgado (2006) and Dave Kingman (1976) for the franchise record for April. With one day remaining in the month, Buck has 25 RBIs, one shy of matching Jeff Kent's April franchise record, set in 1994.
Buck did strike out in the 10th inning with the potential go-ahead run at third base.
HAMMY WHAMMY: Stanton left the game with a right hamstring strain.
WHAT'S NEXT: Jeremy Hefner (0-2, 5.12 ERA) opposes right-hander Kevin Slowey (0-2, 2.43) at 7:10 p.m. Tuesday.