MIAMI
FIRST PITCH: The Mets' losing streak has reached six games after the club failed to protect a one-run lead with three outs remaining for a second straight day at Marlins Park.
Now, Dillon Gee (1-4, 5.96 ERA) takes the mound for a 12:40 p.m. game opposite Marlins left-hander Wade LeBlanc (0-4, 6.20) today, trying to prevent the sweep. Miami has not swept a series of three-plus games against the Mets since May 13-16, 2010 at Sun Life (aka Dolphin Stadium).
Wednesday's news reports:
• Jeremy Hefner took a scoreless effort into the ninth in a bid for his first pro shutout, but he departed with runners on the corners and none out after a disputed play at third base and with the Mets leading by a run. Brandon Lyon ultimately became the eighth pitcher in Mets history to uncork a game-ending wild pitch as the Marlins beat the Mets, 2-1, Tuesday night.
Terry Collins chose not to use Bobby Parnell in the game because of previous workload, which irked the closer. Afterward, Collins described himself as "pissed off" by the manner and frequency of recent losing. David Wright, who returned to the starting lineup after a one-game absence with neck stiffness, said the onus is on the offense for not producing runs.
Read game recaps in the Post, Daily News, Newsday, Star-Ledger, Record, Times, Journal, Miami Herald and MLB.com.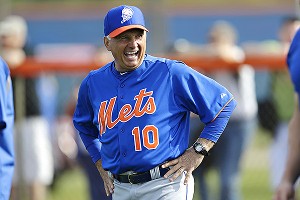 Julio Cortez/Associated Press
Terry Collins is in the final year of his contract.
• Columnist Bob Klapisch in the Record suggests Collins is on the clock. Writes Klapisch:
The countdown on Terry Collins began on the first day of pitchers and catchers and nothing so far has made it any easier to believe he'll be back with the Mets in 2014. Of course, Collins has handled his lame-duck status with grace and maturity -- he's an honest guy, good with people -- but that hasn't stopped Sandy Alderson from letting his manager continue to drift away from the mother ship.
Collins, no dummy, knows he would've already received a vote of confidence, even in private, if Alderson and Jeff Wilpon were entirely sold on his body of work. Both men know what job security -- or its absence -- does to a manager's standing in the clubhouse. Without a commitment from ownership, Collins looks like a short-timer on a bad team, a latter-day George Bamberger. The current six-game losing streak, including embarrassing back-to-back losses to the Marlins, doesn't help his cause, either.
• Read more on Parnell going unused in the Star-Ledger.
• Zack Wheeler corrected a mechanical issue and kept his shoulders more square with the plate during his delivery and proceeded to turn in his best 2013 performance as Las Vegas beat Reno, 10-2, Tuesday afternoon. Wheeler's line: 6.2 IP, 5 H, 1 R, 1 ER, 1 BB, 8 K.
Writes columnist John Harper in the Daily News:
Flashing the overpowering arsenal that makes him such a highly touted prospect, Wheeler dominated the Reno Aces on Tuesday, mostly overmatching hitters for 6.2 innings in a 10-2 victory for Triple-A Las Vegas.
"That's why I keep saying that when it clicks for him, look out," said Vegas manager Wally Backman. "He's plus-plus with just about all of his pitches, and today his command was much better. If he reels off two or three more starts like this one …"
Backman didn't have to finish the sentence. A National League scout in attendance said it for him:
"He could go to the big leagues right now and have success the way he threw today," the scout said.
Marc Carig in Newsday suggests it will be at least another month before Wheeler is in the majors.
Read more on Wheeler's Tuesday outing in the Post and MLB.com.
• Read Tuesday's full minor league recap here.
• Collins offered a reference to the decision to let Johan Santana reach a career-high pitch count in the historic no-hitter last June 1 while explaining Matt Harvey going 121 pitches Monday in Miami.
"I don't think you sacrifice the organization's future -- Matt Harvey himself, or this organization -- for 10 more pitches," Collins said during a pitch-limit discussion. "It's not worth it. It just isn't worth it. That's what I felt last year when we let Johan go out there in the no-hitter. OK, history's being made here, but it turned out not to be a very good idea by the way. A lot of people are happy they saw the no-hitter, but I wish he was starting today, I can tell you that."
Read more in the Star-Ledger and Daily News.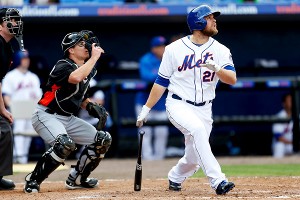 Chris Trotman/Getty Images
Is Lucas Duda the Mets' best option as leadoff hitter?
• Jared Diamond in the Journal wonders if Lucas Duda should lead off. Stats guru Bill James told Diamond he thought the idea had merit. Writes Diamond:
He stands 6 feet 4, weighs 255 pounds and is one of the slowest runners on the team. He is Lucas Duda, and he might be the Mets' perfect leadoff hitter. Stop laughing. Think about it for a second: Duda constantly gets on base, sees a zillion pitches and seldom chases a ball out of the strike zone. In other words, he is the ideal leadoff hitter -- just one trapped in the body of a lumberjack. Is the idea really that crazy?
"Probably," hitting coach Dave Hudgens said. "That'd make headlines. I don't think that's ever been thought of."
• Shaun Marcum, despite being used in relief Monday, is scheduled to start Friday in Atlanta as previously planned.
• Minor league infielder Brandon Brown was suspended 50 games for testing positive for a performance-enhancing substance. Brown had been released by the Mets in March.
• From the bloggers … Blogging Mets says despite a high on-base percentage, Duda is not getting the job done. … Faith and Fear in Flushing believes the decay of the 2013 season is escalating.
BIRTHDAYS: Manny Acosta, who signed with Yomiuri in Japan in December, turns 33. … Retired catcher Joe Hietpas is 34. … Catcher Charlie O'Brien in 53.
TWEET OF THE DAY:
@adamrubinespn good!!! So is everyone else

— Patrick Trupiano (@TheTrupHurts9) May 1, 2013
YOU'RE UP: Should the Mets put Zack Wheeler at more pitcher-friendly Double-A Binghamton, leave him with Triple-A Las Vegas or promote him to the majors?