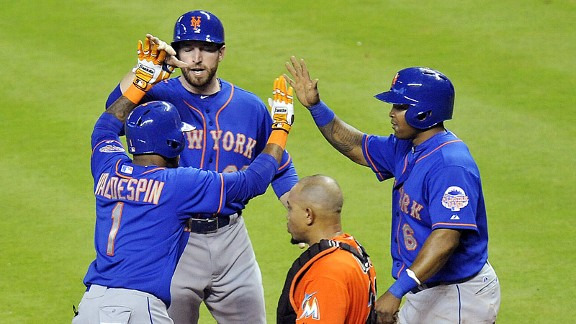 Steve Mitchell/USA TODAY Sports
Ike Davis and Marlon Byrd greet Jordany Valdepsin after his critical pinch-hit three-run homer.
MIAMI -- Too valuable to be an everyday player?
The more success Jordany Valdespin has as a pinch hitter, the less often he might find himself cracking the starting lineup regularly -- even with the Mets' desperately needing outfield contributions.
Since Valdespin launched a walk-off grand slam last Wednesday to beat the Los Angeles Dodgers, the Mets had lost six straight games. That skid ended this afternoon, when Valdespin again launched a homer.
This time, Valdespin produced a pinch-hit three-run shot in the sixth against right-handed reliever A.J. Ramos to stake the Mets to a one-run lead en route to a 7-6 victory against the Miami Marlins.
"He's mastered the art of pinch hitting," David Wright said. "I've pinch hit a few times in my career, and he makes it look a lot easier than it really is. I mean, he's figured out a way to get himself loose and get himself ready. It's impressive to watch because he goes up there and has a good at-bat cold."
Said Terry Collins: "That's what he does. For some reason he loves to come off the bench. Everybody likes to play, but he loves to come off the bench when the pressure is on, the heat is on. He's amazing. I mean, it's truly amazing what he's done as a pinch hitter. His eyes seem to get bigger, and he seems to see the ball better."
So success means more playing time?
Well, maybe not.
Collins noted the value in being able to pick a spot to insert Valdespin as a pinch hitter late in games given his knack for rising to occasions. Valdespin had a franchise-record five pinch-hit homers last season.
"One of those things with those bench players like that, you create the scene for them," Collins said. "If he's hitting third, he doesn't come up in that situation. If he's hitting first, he doesn't come up there. All of a sudden, here comes the eighth hitter in a big situation. Here he is. Now you can put him in.
"When you start the game, you look at the other team's bench and you're saying, 'OK, who are they going to use if it's a big situation? We've got to have somebody ready.' Today, when they brought the reliever in, we had someone ready for him."
As an everyday player, Collins said, Valdespin tends to change his approach at the plate.
"He gets a little aggressive at times where he gets out front a little bit," Collins said. "But, for some reason in those big situations, he doesn't do that. He doesn't get that big stride going. And I think it helps."
Maybe pinch hitting just suits Valdespin's personality?
"It might be," hitting coach Dave Hudgens said. "He's real intense and high energy and high emotion. And he kind of feeds off that kind of situation."
Said Valdespin: "I'm ready for any situation they want. Just give me the chance to get in there and do my job. That's what I want to do."