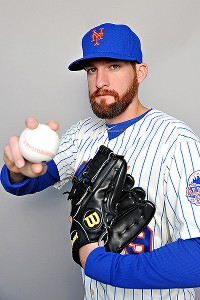 Steve Mitchell/USA TODAY Sports
Bobby Parnell got the call and the save Wednesday afternoon.
MIAMI -- A day later, Bobby Parnell got a chance to close out the game. He did not disappoint.
After consecutive games in which the Mets failed to protect a one-run leads with three outs to play, Parnell breezed through a 1-2-3 ninth inning to close out a 7-6 win Wednesday afternoon against the Miami Marlins. He required only seven pitches.
Parnell had been upset with Terry Collins for failing to use him in the ninth inning Tuesday. Collins explained to Parnell that night that he did not want to overuse the closer and risk causing elbow troubles. Brandon Lyon instead tossed a game-ending wild pitch. Parnell had logged two innings Monday in a blown save.
"I heard it and understood it right off the bat," Parnell said about his Tuesday night conversation with Collins. "I'm competitive. Your competitive nature, you want to be out there and help the team. I understand what he said completely and I agree with it. Sometimes you don't want to hear it."
Was Parnell angry?
"I feel like I'm pretty laid back. I probably wasn't laid back," Parnell said with a laugh. "But I wasn't pissed. C'mon. I was not happy. Not happy, but understood."
Wednesday's save conversion, which allowed the Mets to snap a six-game losing streak, made it simpler to put everything behind heading into a team off-day.
"If you get a chance the next day it makes it easier," Parnell said. "But, I mean, time heals all. It wasn't a big deal. It's not a big deal."