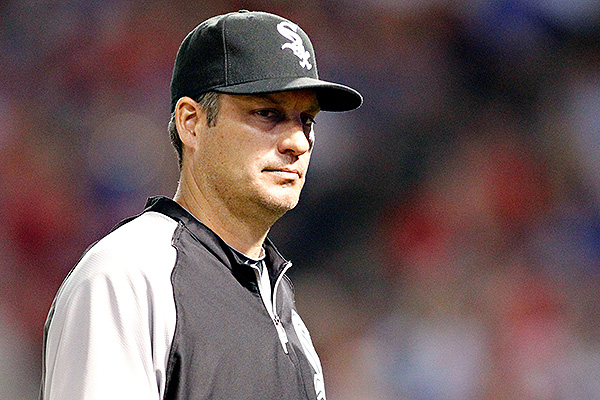 Tim Heitman/USA TODAY Sports
Robin Ventura visits Flushing today as manager of the Chicago White Sox.
FIRST PITCH: Matt Harvey, pitching with three days of extra rest, aims to go to 5-0 when he faces Robin Ventura and Joe McEwing's Chicago White Sox at Citi Field tonight at 7:10.
From ESPN Stats & Information:
Harvey has allowed more than one run in only one of his past eight starts, dating to last season. His only prior interleague start was eight innings of two-hit ball against the Minnesota Twins on April 13.
Ventura played only three seasons for the Mets (1999-2001), but made quite an impact. David Wright, Dave Kingman and Ventura share the club record for the most six-RBI games in Mets history with three. Ventura also hit five grand slams with the Mets, one shy of Mike Piazza's club record.
Of course, that does not include Ventura's "grand-slam single" in the 15th inning of Game 5 of the 1999 National League Championship Series against the Braves to cap an epic comeback win.
The White Sox are actually playing the Mets in New York for the first time.
Harvey opposes Newark's Hector Santiago tonight. Harvey originally was supposed to line up to face fellow 2010 first-round pick Chris Sale, but Sale's start moved up a day to Monday in K.C. after Jake Peavy needed to be delayed due to back spasms.
Tuesday's news reports:
• Harvey last pitched last Monday in Miami. He is unconcerned about the extra rest as well as logging a career-high 121 pitches against the Marlins. His last offering in Miami registered 96 mph. "I feel like I can go out there 120, 130 pitches each time and my body can handle it," Harvey said. (Terry Collins said that pitch count will not be the norm.) Writes Jared Diamond in the Journal:
Detroit Tigers ace Justin Verlander led baseball with six complete games last season and still averaged only 114.2 pitches per start. No other pitcher even averaged 110. Harvey is averaging 104.5 so far this year.
Last season, the Mets curtailed Harvey's season after 169 1/3 innings between the majors and minors. They say they won't limit him this season, but their actions suggest they remain at least somewhat concerned about their phenom's workload.
After Harvey's 121-pitch outing last week, the Mets planned to give him an extra day of rest so he could recover. Harvey said he didn't need it and wanted to start on his regular rotation.
Read more in the Star-Ledger and Newsday.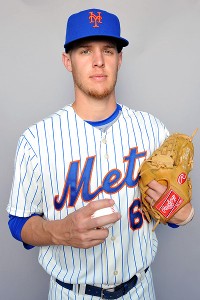 Courtesy of New York Mets
Zack Wheeler has shaved his ERA to 4.00 with Las Vegas.
• In his past two starts with Triple-A Las Vegas, Zack Wheeler has limited opponents to one run, eight hits and two walks while striking out 12 in 12 innings.
"Outstanding -- the best he's pitched all year," 51s manager Wally Backman told Mike Puma in the Post. "He's turning the corner. That is what we have seen the last two starts. If we see that a couple of more starts, he's going to be pushing the door open himself, forcing the issue for sure. … He's showed excellent command the last couple of starts. Before he was missing up and out of the strike zone, arm side, all the time and [Sunday] he never missed one time up and out of the zone arm side."
• Sandy Alderson tells Kristie Ackert in the Daily News about Ike Davis: "I don't think he's happy with what has happened to date. We would have hoped for a better performance to this point, but the evidence is he can do it. And he could do that again this season. We'll see what transpires. But Ike is a big part of the team. We expect him to come around soon."
Read more on Davis' slow start in the Post.
• 2011 first-round pick Brandon Nimmo was batting .414 for low-A Savannah through April 23. He now is in an 0-for-20 rut with the Gnats and actually has not played since April 29 because of a hand injury.
"We want him to go through this," Savannah manager Luis Rojas told Clint Robus in Newsday. "This is part of his development, and this is the part where he's going to ... figure out a lot more things."
Said Nimmo about the slump: "I knew this was going to happen. So I'm not too surprised."
• Columnist Joel Sherman in the Post notes there is one player from the Johan Santana swap with the Twins that is contributing big time. That is Milwaukee Brewers center fielder Carlos Gomez, who leads the NL with a .368 average. Gomez along with Philip Humber, Kevin Mulvey and Deolis Guerra went to Minnesota on Feb. 2, 2008 for Santana.
• Wright had six steals in April -- on pace for a 30-steal season. He had one 30-30 season in his career -- in 2007. "When the situation presents itself, I feel like I have the ability to take a base here and there," he told Mike Kerwick in the Record. "But I'm not going to steal bases for the sake of trying to get a certain [number of] bases or for the sake of doing it. I'm going to do it for a reason."
• St. Lucie right-hander Hansel Robles returned from an upper-back injury to limit Daytona to one run in five innings in a 6-2 win Monday. Frank Francisco pitched for the second straight day for the Florida State League club, allowing one hit in a scoreless inning. Read the full minor league recap here.
• It's a safe bet Bobby Parnell will not lose his closer's job once Francisco is activated from the disabled list. Read a profile of Parnell's adaption to that role from Anthony DiComo at MLB.com.
• The Mets' Saturday postponement in Atlanta will be made up on June 18 as part of a split doubleheader at Turner Field. It now becomes a five-game series against the Braves.
• Edgardo Alfonzo, Kevin Burkhardt and 92.3 Now's Ty Bentli will judge Saturday's Banner Day at Citi Field.
• From the bloggers … Blogging Mets checks in to see how several ex-Mets are doing with their new teams so far this season.
BIRTHDAYS: Brook Fordyce, who was drafted by the Mets in the third round out of high school in Connecticut in 1989 and made his major league debut with the club six years later, is 43.
TWEET OF THE DAY:
What an awesome night! #NYRBelieve

— Matt Harvey (@MattHarvey33) May 7, 2013
YOU'RE UP: Where does Robin Ventura factor in among your favorite Mets of all time?