Joe McEwing is no stranger to ballgames in Queens, even though the super sub has not played a game as a Met since 2004.
He quietly sat in the stands behind home plate for a game late in the 2008 season, just so he could pay his respects to Shea Stadium in its final days.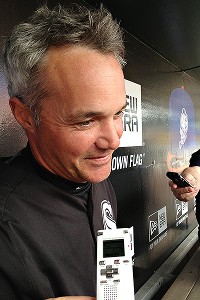 Adam Rubin
Joe McEwing speaks in the visitors' dugout after returning to Citi Field with the White Sox on Tuesday.
"I needed to," McEwing, now third base coach for the White Sox, said about seeing Shea one last time. "It's such a historic place -- in my heart anyway. I needed to see it before they knocked it down. I brought my son back to let him know that's where daddy played and it's not going to be here any longer."
He then came back to Flushing the following September, after managing Class A Winston-Salem in the Chicago White Sox organization, in order to check out Citi Field. He also attended the 10th anniversary ceremony remembering the Sept. 11 terrorist attacks, which also brought Robin Ventura to Citi Field.
"I snuck in the first year in September, and it was really disappointing, because they were on the verge of losing 100 games and I heard no booing," McEwing recalled about his 2009 visit. "I wasn't used to that. ... We'll see how the atmosphere is during the game [tonight]. I kind of miss that Shea feeling. The booing is what motivates you and makes you strive to be the best player you can be every single day. As a player, you should want that."
What does McEwing most fondly remember about his Mets career, which spanned 2000 through 2004?
"You hate to pinpoint one," McEwing said. "Obviously fulfilling your childhood dreams, and that's competing in the World Series, being able to play against the Yankees. You figure the whole world is focused on one city. For that to happen, it's pretty special. And the biggest thing for me is being part of the relief efforts after 9/11. That holds the biggest impact, because it had nothing to do with this game. It was us as a ballclub contributing to the city of New York and the country. That really sticks out and means a lot to me as an individual. To be able to take the pressures and everything off a lot of individuals for a couple of hours a night, to give peace and happiness and something positive to cheer for."
McEwing was David Wright's first mentor in major league camp. In fact, Wright's first spring training he ate dinner at McEwing's apartment every night during camp.
Wright surprised McEwing and attended a ceremony today in Manhattan in which McEwing was inducted into the Irish American Baseball Hall of Fame.
"David was easy," McEwing said. "David is a special kid and special person and a good friend. Every rookie that comes up, you just try to guide them the right way to go about things. It wasn't hard to guide David the right way. He has outstanding core values."