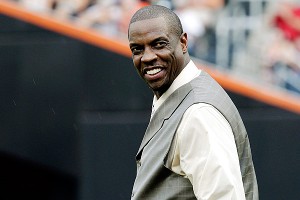 Kathy Willens/Associated Press
Dwight Gooden has co-authored his memoir, which will be released next month.
Dwight Gooden's autobiography, entitled "Doc, a Memoir," is currently available for pre-order ahead of its June 4 release date. An excerpt available at Amazon.com details Gooden discussing why he missed the 1986 World Championship parade:
"As my teammates rode through the Canyon of Heroes, I was alone in my bed in Roslyn, Long Island, with the curtains closed and the TV on, missing what should have been the greatest morning of my life," Gooden wrote. "I'd spent all night in a sketchy housing project apartment near the Roosevelt Field mall, getting wasted with a bunch of people I hardly even knew. I was drinking shots of vodka. I was snorting lines of cocaine. And more lines of cocaine -- and more lines of cocaine. I didn't leave the drug party until after the sun came up.
"As my teammates toasted our triumph, I was nursing a head-splitting coke-and-booze hangover, too spent, too paranoid, and too mad at myself to drag my sorry butt to my own victory parade. I had never felt so lonely before."
Read the excerpt at Amazon.com.
These days, Gooden has become one of Matt Harvey's biggest cheerleaders. Dr. K tweets the K count after each Harvey strikeout.