Las Vegas manager Wally Backman believes Zack Wheeler's big league promotion could be about two weeks away.
"Personally, I think if he has a couple of more starts like his last start he'll be headed to the big leagues, and rightfully so," Backman told Las Vegas' ESPN radio affiliate.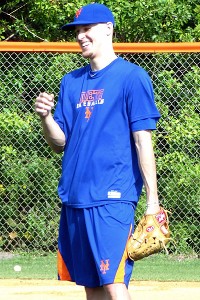 Adam Rubin
Zack Wheeler
Wheeler, who next pitches Saturday on an extra day of rest opposite Albuquerque's Aaron Laffey, has limited his past two opponents to a combined one run on eight hits and two walks while striking out 12 in 12 2/3 innings. Wheeler last pitched Sunday, tossing six scoreless innings at Sacramento to trim his Pacific Coast League ERA to 4.00.
"It usually happens every year. There's a little bit of a slow start, you start making tweaks and adjustments and find it," Wheeler told MLB.com after Sunday's start. "I just want to carry it from here. It's baseball, you know. You gotta make those adjustments and just pitch.
"I definitely felt good. I was keeping my shoulder square to the plate, which allows me to have a bit better command, get out in front of hitters. It feels comfortable, feels good. Before, the command was off, and the mechanics allow me to hit spots a little bitter, sharpens up my pitches."
Of course, there is more consideration than performance in determining when Wheeler is promoted. The Mets are expected to wait as to not trigger an extra year of arbitration eligibility for Wheeler.
There is no set date to avoid becoming a "Super Two." Wheeler, after the 2015 season, simply must not be among the 22 percent of players who have the most MLB service time between two and three years. Imprecise estimates of what the cutoff will be range from later this month to early/mid-June.
Backman, meanwhile, created some other recent attention. When he was ejected Wednesday after arguing a call at first base, the 51s manager twice made a motion like he was ejecting the umpire.