Jordany Valdespin received payback for too much admiring of an inconsequential homer in Friday's loss to Pittsburgh. A day later, when Valdespin pinch-hit in the seventh Saturday, he was drilled in the right forearm by reliever Bryan Morris.
Valdespin declined through a team spokesman to speak afterward, but his teammates spoke in-depth. The summary: Valdespin asked for the retaliation with his initial action, but the Mets do have his back.
"You've got guys that support him, and guys obviously are trying to help him," David Wright said. "He's young. He has a lot of flair about him. That's his personality. And he doesn't need to change the person that he is. I think toning some of it down might be appropriate. But he gets excited. He hits a home run and it's exciting. Sometimes your natural reaction is to be excited about that.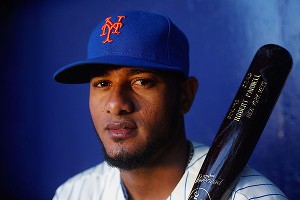 Chris Trotman/Getty Images
Jordany Valdespin was plunked Saturday, a day after admiring his ninth-inning homer.
"His way of showing that he's excited might be different than mine or a lot of other people's. Sometimes there's criticism that's fair. And a lot of times there's also a lot of criticism that's unfair, because he has a history of doing some things. We, in here, obviously try to help him."
Valdespin, upon returning to the dugout after the half-inning Saturday, threw his batting helmet and stormed up the tunnel toward the clubhouse. Fellow Mets insisted that was not Valdespin getting upset with a lack of support from teammates.
"No, I think he was mad because he got hit by a 94 mph fastball in the forearm. That hurts," Wright said. "I've been there before. He knows that we support him. Obviously, we can't make him run any faster down to first base after home runs, but we can try to not necessarily teach him, but [advise him] that rubs some people the wrong way. And obviously it rubbed the Pirates the wrong way."
Said Ike Davis: "We were getting beat pretty bad and he hit a home run and kind of watched it maybe a little too long. That is baseball. People, you see it all the time, hit a home run and just watch it. Some people take offense to it and some people don't. … Obviously they didn't like it, so they retaliated."
Should Terry Collins have avoided Valdespin hitting against the Pirates?
The manager said a plate appearance could not have been delayed forever. And, Collins noted, he wanted to get Wright out of the lopsided game without using Mike Baxter as the pinch-hitter in the half-inning and burning two bench players. So Valdespin pinch-hit instead of Baxter, stayed in the game at second base and Justin Turner moved over to third.
"He was aware of what might happen," Collins said about getting plunked. "If you play this game long enough, you're not naïve about what's going on. They threw at him. I knew they might. It's part of the game. You've got to go up there and do what he did. I respect him the way he went and handled it. He went to first.
"I want to close the book on Jordany Valdespin," the manager continued. "He's an emotional kid. He's an emotional player. He plays with a little excitement, a little flair. Once in a while somebody is going to be disturbed by it. In our game, there are times when the other team, if they don't like something, they're going to do something about it. But you've got to put him in there. Sooner or later he's got to play. I mean, you can't keep avoiding the issue."
Collins did not mind the location of the purpose pitch.
"I would have been very, very bothered had it been somewhere up in the neck area," Collins said.
Wright said he never was concerned he, rather than Valdespin, would become the target of the retaliation.
"I wasn't even thinking about that," the captain said. "I figured if they had an issue with Jordany that they'd take it up with Jordany. We'd do the same thing. If we felt like somebody on the other team showed one of our guys up, I'm sure we would act accordingly, not go after somebody else."
Wright, summing things up, said: "You have guys that care about Valdy and are always pulling him aside. And he will pull guys aside and ask questions and things. I think he gets somewhat of a bad rap, sometimes unfairly. He's obviously made some mistakes in the past."