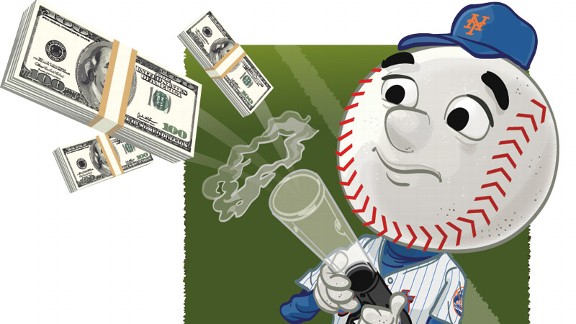 Illustration by Remie Geoffroi
Mr. Met likely would have to dig a little deeper into the coffers for the 2016 season if Zack Wheeler is promoted this month.
If avoiding an extra year of arbitration eligibility for Zack Wheeler is important to the Mets -- and a team insider says it is a priority -- the top prospect may not make his major league debut for another month.
Still, the insider projected, Wheeler will spend a half-season in the majors to get any growing pains out of the way before the 2014 season begins.
In March, an executive with another MLB club estimated a team would need to wait until June 15 to call up a prospect in order to delay arbitration eligibility by a year.
Now, that executive says: "We still have the same target date, and possibly a few days later."
The Mets, internally, right now estimate the imprecise date a little sooner -- from the final days of May to as late as June 10.
With that consideration in mind, a June 17-20 five-game series over four days in Atlanta, when the Mets will need an extra starter anyway, seems like a fit for Wheeler's major league debut because it is almost assuredly after that "Super Two" deadline and also fills a major league need.
At this point, no matter when Wheeler is promoted this season, he will not be eligible for free agency until after the 2019 season (assuming he never returns to the minors).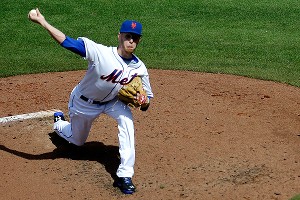 Julio Cortez/Associated Press
Zack Wheeler has a 1.35 ERA over his past three starts with Las Vegas.
So whatever the Mets decide, it is not like they're pushing Wheeler to free agency early.
The issue becomes whether Wheeler is paid for two full seasons in the majors at a price set by the club near the minimum (roughly $500,000), or three years at that rate, before becoming eligible for arbitration.
"Why not put yourself in a better position long term?" a team insider reasoned about having more financial flexibility in 2016 and potentially beyond for other pursuits by delaying Wheeler's promotion only a handful of weeks.
Among Wheeler's peers, the 22 percent of players with the most MLB service time between two and three years will become eligible for arbitration after the '15 season. The other 78 percent wait until after the '16 season.
Ike Davis, as a frame of reference, did qualify for the extra year of arbitration and is earning $3.125 million this year because he debuted April 19, 2010. Teammate Dillon Gee -- who missed the "Super Two" cutoff because he debuted that September -- is at a team-imposed $527,325. So there is a real impact. And it can last for more than one year.
Davis' 2014 salary might be higher than it would otherwise be because it should partially be based on this year's "Super Two"-awarded salary. So there are ramifications beyond just the one year, although the salary variation generally means a lot more to an individual player than a team working with a $100 million payroll.
"It has a relatively large effect on individual player salaries," said the exec who estimated the Super Two cutoff. "But unless you're Buster Posey or David Price or Ryan Howard, the effect on a team is minimal."
How important should avoiding the extra arbitration year be for the Mets regarding Wheeler?
The major league executive believes it should not dominate the decision "given the contracts they will be shedding, and how relatively far off it is in the future."
Las Vegas manager Wally Backman, without Super Two entering the conversation, seemed to agree. Before Wheeler's third straight solid outing Sunday with the Triple-A club, Backman suggested Wheeler could be in the majors after two more successful starts.
"Personally, I think if he has a couple of more starts like his last start he'll be headed to the big leagues, and rightfully so," Backman told Las Vegas' ESPN radio affiliate.
That's not happening, though, barring something unexpected. A team official said Wheeler is not going to be promoted in a week. He should get a half-season in the majors, though, so the promotion should only be a handful of weeks away.
Sandy Alderson, for his part, told ESPNNewYork three weeks ago: "Super Two status is a consideration. But his level of performance is probably the major consideration."