FIRST PITCH: The Mets need to face the St. Louis Cardinals pitching staff right now like Jay Horwitz needs encouragement about his tweeting.
(Pause and process that.)
Yet, ready or not, the struggling Mets hitters face the top rotation in the majors in a four-game series beginning tonight at Busch Stadium. That includes facing Shelby Miller and Adam Wainwright the final two games. That duo combined to retire an MLB-record-tying 40 straight batters this weekend against the Colorado Rockies.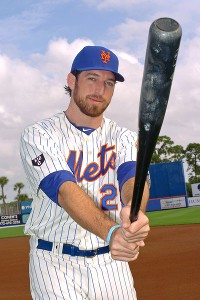 Steve Moore/Associated Press
Terry Collins has committed to Ike Davis batting cleanup.
Worse: Matt Harvey is not scheduled to pitch against the Cardinals. He next takes the mound Friday at Wrigley Field.
Jeremy Hefner (0-4, 4.63 ERA) and right-hander Lance Lynn (5-1, 2.72) face off in the series opener at 7:05 p.m. ET.
One issue to monitor: How patient will Terry Collins be with Ike Davis?
Collins stuck with his promise and moved Davis to the cleanup spot Sunday.
Did the manager box himself into a corner by pledging the lineup would be stable with Ike in that spot? Davis went 0-for-4 with two strikeouts as the Mets lost to Pittsburgh, 3-2, Sunday. He has 24 Ks in his last 59 at-bats, yet Collins now would appear committed to keeping Davis batting cleanup for a while.
Monday's news reports:
• Although he did not possess his best stuff, Harvey limited the Pirates to two runs in seven innings Sunday. Harvey suffered his fourth straight no-decision, even though he has a 1.98 ERA during that span. The Mets have scored six total runs with Harvey in the game during that four-game stretch.
Closer Bobby Parnell entered in an unusual spot -- a tie game with two outs in the eighth and two baserunners aboard -- and surrendered a game-deciding RBI single to Manhattan-raised Pedro Alvarez.
Daniel Murphy snapped an 0-for-17 skid with a one-out double in the bottom half of that frame, but he was stranded at third base when Collins' revised lineup flopped. Davis struck out and Lucas Duda grounded out against Mark Melancon to strand Murphy at third base. Duda was flat-out unlucky. His grounder up the first-base line hit the bag and ricocheted to second baseman Brandon Inge, who threw to Melancon covering first to end the threat.
The Mets (14-20) dropped six games under .500 for the first time this season and lost for only the second time in a Harvey start this year. The Pirates had been 3-12 since the opening of Citi Field before taking three of four during the weekend.
Read game recaps in the Post, Daily News, Star-Ledger, Newsday, Record, Times, Journal and MLB.com.
• Davis acknowledged he "let the team down." Columnist Kevin Kernan in the Post writes Davis may need a ticket to Vegas to correct himself. Read more in the Star-Ledger.
• Writes columnist Bill Madden in the Daily News:
I am here to report Matt Harvey is human -- which made for a doubly aggravating Mother's Day experience for Met fans.
For even when Harvey is inhuman, as he was in his previous start when he nearly perfect-gamed the Chicago White Sox Tuesday at Citi Field, the bumbling Mets were unable to muster enough runs to get him a win. And such was the case again Sunday when Harvey battled with his command most of the afternoon but still was able to hold the Pittsburgh Pirates to just two runs over seven innings and put the Mets in position for a much-needed "W."
Writes columnist David Lennon in Newsday:
Matt Harvey is a potentially great pitcher on an undeniably bad team, which is why he walked away empty-handed yet again Sunday despite a performance that was merely good in the Mets' 3-2 loss to the Pirates.
Get used to it, because without significant upgrades to this roster, Harvey is going to feel pretty lonely out there this season. While he didn't have his A-plus stuff against Pittsburgh, Harvey still allowed only two runs over seven innings, which normally is more than adequate for a win.
But not in Flushing, where Harvey was left to explain everything he couldn't do Sunday. Despite a lack of his usual pinpoint control, Harvey's biggest problem wasn't throwing the baseball. The issue was the Mets' chronic inability to make contact with it that doomed him.
Read more on Harvey in the Times and Daily News.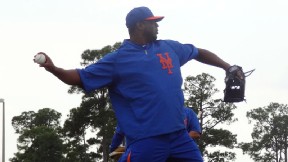 Adam Rubin
Frank Francisco needs to see a doctor for elbow discomfort.
• Frank Francisco, who was poised to move from St. Lucie to Binghamton in advance of being activated from the disabled list, instead experienced renewed elbow discomfort and is due to be examined by a doctor this week. With Francisco yet to appear at the major league level, three of the team's four highest-salaried players have contributed nothing this season: Johan Santana at $31 million (including 2014 buyout), Jason Bay at $21 million (although $16 million is deferred for one to two years), and Francisco at $6.5 million.
The Mets officially promoted sidearmer Greg Burke from Triple-A Las Vegas to try to spell an overused bullpen, although Burke went unused Sunday. The team placed Jeurys Familia on the DL with biceps tendinitis. Read more in the Star-Ledger.
• Collin McHugh (3-2, 2.74 ERA) limited Albuquerque to one run in seven innings. 51s reliever Sean Henn then allowed a pair of ninth-inning runs but stranded Tony Gwynn Jr. in scoring position by striking out Jeremy Moore as Las Vegas won, 4-3. In his second start since returning from the DL, Cory Mazzoni allowed one run in 5 2/3 innings as Binghamton split a doubleheader with a 9-3 win in Game 2 against Harrisburg. Stefan Sabol's solo homer accounted for the only Savannah run in a 4-1 loss to Rome. Read the minor league recap here.
• Mets instructors had praise for Zack Wheeler's 7 1/3-inning outing Sunday with Vegas. Read more in Newsday.
• In the Record, John Buck pays a Mother's Day tribute to his wife Brooke -- "the steadying force" as they dealt with the early days following the premature birth of twins.
• From the bloggers … After seeing a photo of Mr. Met getting flowers for his mom -- his mom? -- Mets Police worked out the Met Family Tree.
BIRTHDAYS: Manager-turned-TV analyst Bobby Valentine turns 63.
TWEET OF THE DAY:
Leaving NYC from the air. #Greatness twitter.com/Mark_Melancon_…

— Mark Melancon (@Mark_Melancon_) May 12, 2013
YOU'RE UP: What should the Mets do with Ike Davis? 1. Keep the faith and leave him at cleanup. 2. Drop him in the order. 3. Bench him. 4. Demote him.