ST. LOUIS -- On pace for historically low production from their outfield, the New York Mets signed Rick Ankiel and intend to use him in a platoon in center field.
Ankiel, 33, is starting in center field and batting seventh against his original team, the St. Louis Cardinals, on Monday night. He becomes the sixth player to start in that position for the Mets this season.
"Obviously I've played here in Busch Stadium quite a bit, so it's kind of ironic the first game back is here in St. Louis," Ankiel said.
Ankiel was released by the Houston Astros four days ago after hitting .194 with five homers, 11 RBIs and 35 strikeouts in 62 at-bats. He has missed on 42 percent of his swings this season -- the worst rate in MLB, according to ESPN Stats & Information.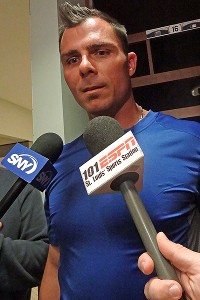 Adam Rubin
Rick Ankiel speaks with the media after arriving Monday at Busch Stadium.
"I thought it was quick," Ankiel said about his release from Houston, "but it is what it is. Baseball is a business. And I know they wanted to give those young guys a shot. I was just happy I had an opportunity there and I enjoyed it. I wasn't happy about the inconsistency, but my power was there. But it was early. Hopefully I'll get that turned around."
Mets outfielders currently have a collective .222 batting average and .299 on-base percentage -- both ranked 14th in the National League. The 1965 Mets outfield, the worst in franchise history in those two categories, finished with a .223 batting average and .284 OBP.
Manager Terry Collins said the lefty-hitting Ankiel and righty-hitting rookie Juan Lagares will platoon in center field. That's a blow to Jordany Valdespin, whom Collins said may play some second base if Daniel Murphy continues to struggle.
Outfielder Andrew Brown was optioned to Triple-A Las Vegas and right-hander Jenrry Mejia was transferred to the 60-day DL to clear room for Ankiel.
The Mets hope a change of scenery will help Ankiel, as it did at least initially with catcher John Buck.
Ankiel, presented with a handful of number options, chose No. 16. He was a fan of Dwight Gooden while growing up in Port St. Lucie, Fla. -- the Mets' spring-training home.
"I was a big Doc Gooden fan when I was younger, so even being able to wear 16 is cool," Ankiel said. "It's exciting. I asked what numbers were available. There weren't that many. When 16 was one of them, it was a done deal right away."
Ankiel has not received his equipment yet, so he borrowed left-handed reliever Scott Rice's glove and spikes and other items from various new teammates.
"All my stuff got stuck in Houston," Ankiel said. "I don't know what happened with the mail there or whatever, but we're on a borrow program tonight. Hopefully whatever stuff I borrow has some hits in it."
Ankiel said the contact with the Mets began two days ago.
Asked if he thought he would get another chance in the majors after being released by Houston, Ankiel said: "You don't know. You really don't know. I figured I would. I was hoping I would. And I did."