WHAT IT MEANS: Rick Ankiel and the pitcher whose glove he borrowed played central roles as the Mets dropped a season-worst seven games under .500.
Ankiel, in his Mets debut, charged hard and lunged forward, but had pinch-hitter Ty Wigginton's sinking liner pop out of the glove he borrowed from Scott Rice.
Wigginton, credited with a seventh-inning double, then scored when Matt Carpenter sent a comebacker at Rice. The shot struck the pitcher and ricocheted into foul territory. John Buck retrieved the baseball, leaving the plate vacant, and Wigginton scored the tiebreaking run from second base.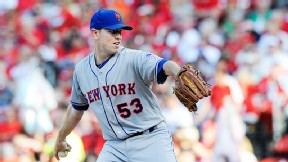 Bill Boyce/Associated Press
The Mets are 0-7 in games started by Jeremy Hefner this season.
Scott Atchison served up a two-run homer to Matt Holliday later in the inning and the Mets lost, 6-3, to the St. Louis Cardinals on Monday night at Busch Stadium.
Although Jeremy Hefner received a no-decision, the Mets dropped to 0-7 in games he has started this season. They also fell to 0-8 the game following Matt Harvey's start.
The seven straight losses in Hefner starts match the third-longest streak in franchise history for the Mets for one pitcher to open a season.
The Mets lost Anthony Young's first 10 starts in 1993 (although that streak started in June, after he moved from the bullpen to the rotation). They lost the first eight starts by Randy Jones in 1981, and the first seven starts by Dave Mlicki in 1997 and Wally Whitehurst in 1992.
DEBUTANT: Ankiel walked in his first plate appearance as a Met and finished 0-for-3 with two strikeouts. He now has K'd in 37 of 65 at-bats this season.
SILENT NIGHT: In seven innings against Lance Lynn and the remainder against the bullpen, the Mets mustered only four hits -- three from Daniel Murphy, who had snapped an 0-for-17 skid Sunday.
The Mets (14-21) really were gifted their three runs because of unusually shaky Cardinals fielding. Ex-Met Carlos Beltran, now ranged-challenged and playing right field, misplayed Murphy's line drive into a two-run double. Murphy then scored from second on a tapper by David Wright just past the pitcher's mound that was ruled an infield single as the Mets took a short-lived 3-2 lead in the second.
The Mets did walk five times, getting Lynn's pinch count to 124. But they mustered only one hit after the second inning.
START OF SOMETHING: Hefner retired the final 10 Cardinals he faced and did not allow a hit after a second-inning RBI single by Carpenter that evened the score at 3. Hefner, although he remained winless, finished with a decent line: 6 IP, 5 H, 3 R, 3 ER, 4 BB, 2 K. He threw 97 pitches (58 strikes).
WHAT'S NEXT: Dillon Gee (2-4, 5.55 ERA) opposes John Gast in the southpaw's major league debut Tuesday at 8:15 p.m. ET.