ST. LOUIS -- If only Rick Ankiel's glove had made it from Houston, none of this may have happened.
After borrowing and then feeling uncomfortable using Scott Rice's glove while shagging pregame, Ankiel instead borrowed a glove from Jonathon Niese. The normally solid defensive center fielder then dropped Ty Wigginton's sinking liner in the seventh inning while lunging forward. The shot, which popped out of the borrowed glove, was ruled a double. Wigginton eventually scored the tiebreaking run on an odd play as the Mets lost Ankiel's debut 6-3 to the St. Louis Cardinals on Monday night at Busch Stadium.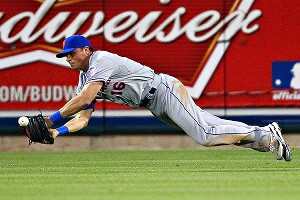 Dilip Vishwanat/Getty Images
Rick Ankiel, using Jon Niese's glove, cannot hold on to a sinking liner from Ty Wigginton. Wigginton eventually scored the tiebreaking run.
"I don't want to make excuses about the glove. I do think if I have my glove it stays in there," Ankiel said. "But I'm the type of person, I feel like if I can get a glove on it, I feel like I should have caught it. And in that situation right there, you don't want to let him get to second. He got there anyway and he ended up scoring. It sucks, but it is what it is."
Wigginton scored from second when Matt Carpenter hit a comebacker off Rice and into foul territory near the Cardinals' dugout.
Rice said he consciously kicked at the ball and blocked it so it would not go up the middle and into center field, which would have allowed Wigginton to easily score. But when the ball ricocheted off Rice's foot and into foul territory, John Buck vacated the plate to retrieve it. Terry Collins said Rice should have covered the plate at that point. And Buck was shouting to him to do so. But Rice did not. And Wigginton ran through a stop sign at third and scored the tiebreaking run all the way from second on a ball that did not leave the infield.
"It was in no-man's land, so John and I both went for it," Rice said. "I don't know. It happened so fast. As soon as I realized there wasn't a play at first, I looked up to see where the runners were, and I saw the guy rounding from third. All I thought about was, 'I've got to get to home.' Unfortunately, I didn't get there in time."
The run broke a 3-3 tie, which was the score when Mets starter Jeremy Hefner departed after six innings. Hefner settled down to retire the final 10 batters he faced after allowing three early runs.
"Being from Oklahoma, I wasn't a Cardinals fan growing up, but I followed them very closely. And I had a lot of family in the stands tonight," Hefner said. "I think I was a little amped up those first couple of innings and left a few pitches over the middle, and then calmed down the last four or whatever. It was a good adjustment and something to build off of for Chicago."