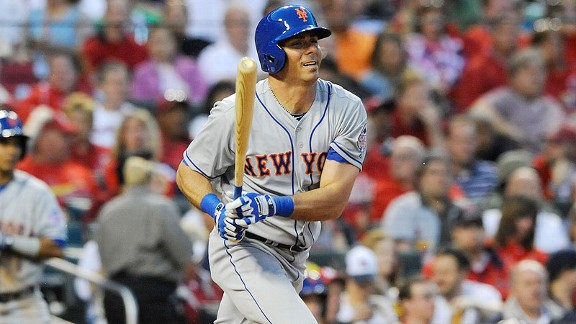 Bill Boyce/Associated Press
Rick Ankiel made his Mets debut last night at Busch Stadium.
ST. LOUIS
FIRST PITCH: Less Cowgill. More Ankiel?
Desperate for outfield production, the Mets signed strikeout-prone Rick Ankiel and will use him in a center-field platoon with Juan Lagares. Ankiel debuted last night at Busch Stadium, going 0-for-3 with a walk and two strikeouts.
The signing seemed to be met by widespread dismay from Mets fans.
And this is not a slam at Ankiel.
The question becomes: If the Mets are not going to be a playoff team this season -- and who seriously thinks they are -- why not just experiment with young players? Get them experience for when the Mets again are relevant.
It doesn't even matter which young player -- Lagares … Kirk Nieuwenhuis … Jordany Valdespin … anyone.
The Mets will counter that line of thinking by saying that Ankiel is a placeholder. And if they had someone ready to step in, they would be up, which is an indictment in itself.
Let's not kid ourselves. The Mets, no matter the GM, have a tradition of trying to squeeze out a few wins in meaningless seasons by using the veteran at the expense of a young person playing, which leaves the prospect less prepared to contribute to brighter days.
It happened pre-Sandy Alderson, too.
Remember when Hisanori Takahashi was compiling saves late in the 2010 season after K-Rod's family meltdown at Citi Field?
All that did was deprive Bobby Parnell of some closing experience back then and set up Takahashi for a two-year, $8 million deal that offseason as a free agent with the Los Angeles Angels.
Lagares, by the way, does start Tuesday. Dillon Gee (2-4, 5.55 ERA) will face left-hander John Gast in the southpaw's major league debut at 8:15 p.m. ET.
Tuesday's news reports:
• Having borrowed a glove from Jonathon Niese because his had yet to find its way from Houston, Ankiel dropped a sinking liner off the bat of Ty Wigginton in the seventh inning Monday night. Wigginton eventually scored the deciding run when the Mets failed to cover home plate and the Cardinals won, 6-3, at Busch Stadium. Read game recaps in the Post, Daily News, Star-Ledger, Newsday, Record, Times, St. Louis Post-Dispatch and MLB.com.
• The Mets optioned Andrew Brown to Las Vegas and moved Jenrry Mejia to the 60-day DL in order to clear a spot for Ankiel. Mejia will continue to pitch in the minors uninterrupted. Until early June, though, he will not count against the 40-man roster. Read more on Ankiel's signing in the St. Louis Post-Dispatch and Star-Ledger.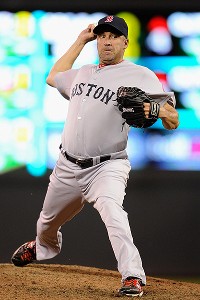 Hannah Foslien/Getty Images
While pitching for the Red Sox last season, Scott Atchison passed on Tommy John surgery and instead let his elbow calm down for a couple of months.
• Scott Atchison, who served up a two-run homer to Matt Holliday that capped Monday's scoring, is dealing with numbness in his fingers related to a torn elbow ligament discovered last year. Atchison passed on Tommy John surgery in 2012 while with the Boston Red Sox. He hopes the tingling sensation goes away with rest this time, too. Otherwise, the alternative would appear not good. The next step: a doctor's examination today. Read more in the Post, Star-Ledger, Daily News and MLB.com.
• Frank Francisco was examined Monday in New York for continued elbow discomfort. He was diagnosed with a strained flexor pronator tendon in his right elbow and was advised to refrain from throwing for 72 hours. He may then attempt to resume activity. Bottom line: He is making $6.5 million this season. And he likely will not contribute anytime soon. Read more in the Star-Ledger.
• Catching prospect Travis d'Arnaud, who fractured the first metatarsal in his left foot four weeks ago, has an exam scheduled for Friday in New York. He hopes to be cleared to shed an immobilizing boot and begin weight-bearing activity.
• Alderson, appearing on WFAN, touched on a variety of topics:
--Alderson said he couldn't foresee rock bottom any lower. "I'm not sure that things can devolve any further," he said.
--He said this time of year, the only players available are generally via waiver claims and releases, as was the case with Ankiel. In other words: Don't expect a cavalry.
"This is not the time of year when clubs, at least most clubs, are making massive changes," Alderson said. "… At this particular juncture, there is not a lot that is available to us. Some of the players who are not playing well have to play better. It's as simple as that.
"Now, we can start jettisoning some of those players -- send them to Triple-A or Double-A or whatever destination is an option. But, ultimately, what we've got to decide is whether that's in their best interest and our best interest short term and long term. The reality is we're going to probably have to be a little more patient with guys like Ike, who have demonstrated they can perform in the past, and we have to hope like hell they perform again."
--In another indictment, Alderson acknowledged Lagares was promoted even though he was not ready at the plate. The GM essentially said there was no one else available to help in the outfield with Nieuwenhuis recently having returned to Triple-A to get some at-bats and Matt den Dekker out for a few more weeks. (Read more on den Dekker's progress here.)
"A player like Lagares, we didn't think he was ready, but he was the best alternative at the time," Alderson said. "I would hope that we don't have to bring up players who are not ready. It's great to give young guys an opportunity, but they have to be ready to seize it. In many cases they're not. … So Lagares really was our only option. And it's probably unfair to move him as quickly as we did."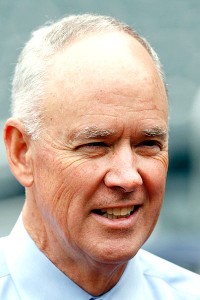 William Perlman/US Presswire
Sandy Alderson suggested the improvements must come from players already here performing better.
The issue with Lagares?
"He's a guy who likes to chase pitches out of the strike zone, particularly away," the GM said. "He was improving to some extent in Las Vegas in that regard, but that's been underscored since he's been with us at the major league level. And it's one of the reasons that we decided to sign Ankiel. We won't continue to keep Lagares at the major league level if he's not able to contribute. What Terry has to do, and we have to assess, is whether his defense is worth accepting the level of offense that he's going to provide in the eight hole."
--On Valdespin getting plunked against the Pittsburgh Pirates, Alderson said: "I think it's unfair to say that because we didn't hit one of the Pittsburgh players thereafter that he didn't have a friend."
The GM continued: "Valdespin is a very interesting player. … Look, I'm not telling you he's the most popular guy in the clubhouse. That would be misleading. … What I'm saying is I don't believe he was hung out to dry."
--Alderson affirmed Zack Wheeler would not be in the majors in the next week or 10 days -- or "probably not" any prospect within that window, basically. In response to a question in which Shaun Marcum's struggles were broached, Alderson noted the Mets have issues in the rotation with everyone other than Matt Harvey. So one plug is not going to fix the leak anyway.
Said Alderson, referring to Marcum: "If he were the only glitch in the starting rotation, it'd be easy to say, 'Well, OK, you've got Wheeler down there, he'll fix that problem.' Well, Marcum is not the only one who has been going four or five innings max per game. … At this point the rotation, it's not a matter of one or even two. It's a matter of three or four. That we've got to fix, but in some respect we have to hope that some of that fix comes from those three or four individuals themselves."
On promoting Wheeler, Alderson said: "Bringing Zack Wheeler up here, does it create a second day out of five that fans will have some interest -- a greater interest -- in watching us play? Yeah, I think initially. But if he doesn't have success, that won't last very long. … I think it's unfair to him to view him as the savior in a situation where it's not once every five days. It's three or four out of every five days we've had these problems."
--Alderson said Collins and his coaching staff are not in imminent danger of being fired.
"I'm in the clubhouse every day. I don't hang around, but I'm in there every day," the GM said. "The communication is excellent. It's not as if the players have rejected the coaches. They're working hard."
• Read a recap of Alderson's maneuvers during three seasons as GM from Cody Derespina in Newsday.
• Although Alderson subsequently disputed it on the radio, a team insider told ESPNNewYork.com that Wheeler's call-up almost assuredly will wait until after the Super 2 deadline.
• Harvey may face an innings limit again this season.
• The Las Vegas 51s, the Mets' Triple-A affiliate, has been sold. The new group plans to build a new ballpark in the Las Vegas community of Summerlin. It is unlikely to significantly affect the Mets unless they are unable to move back to the International League after this player-development agreement expires following the 2014 season. Read more from KTNV, the ABC affiliate in Vegas.
• E:60 will televise a 90-minute special at 7 p.m. ET today on Mets catcher Landon Powell, who is currently assigned to Vegas. The special deals with the death of Powell's infant-daughter Izzy as well as the catcher's own battle with a liver disorder.
• Cory Vaughn had two RBIs in Binghamton's 5-2 win against Akron. Read the full minor league recap here.
• Jonathan Bernhardt at Sports On Earth addresses the weekend Valdespin plunking.
• The Cardinals are a model organization, writes columnist Joel Sherman in the Post.
• Left-hander Shawn Teufel, son of Mets third base coach Tim Teufel, is trying to perfect becoming a submariner, writes Ari Kramer in Newsday.
• From the bloggers … John Delcos at Mets Report suggests the Mets would be better off without Jordany Valdespin. … The Eddie Kranepool Society examines the Alderson Plan, Valdespin and the apathetic Banner Day crowd. … At Mets Police, Mike V presents A Dad's Guide To A Lost Mets Season. … Mets Today profiles Savannah left-hander Steven Matz, who hails from Long Island. … Faith and Fear reflects on the sorrow and the pity of the Mets' dismal start.
BIRTHDAYS: Dick Tidrow, now an assistant general manager with the San Francisco Giants, is 66. … Japanese reliever Takashi Kashiwada turns 42. … Right-hander Brian Lawrence, who started a critical September game for the Mets at Washington during the 2007 collapse, is 37.
TWEET OF THE DAY:
#Mets are losing 55%-45% in the ESPN uniform vote to Walgreens (I mean Nationals). Don't let this happen! espn.com/sportsnation/p…

— METS BRO (@METS_BRO) May 14, 2013
YOU'RE UP: Are the Mets wasting a development opportunity in using Rick Ankiel over a young player, even if the young player performs inferiorly in the short term?