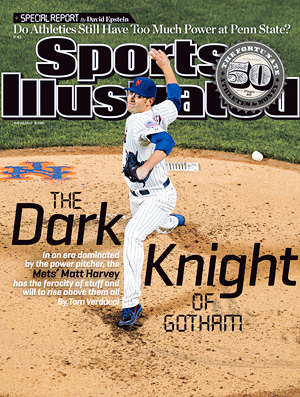 Courtesy of Sports Illustrated
Matt Harvey appears on SI's cover.
ST. LOUIS -- Unbeaten Matt Harvey, the NL Pitcher of the Month for April and MLB's ERA leader at 1.44, graces the cover of Sports Illustrated this week.
"I guess there was a reason why I was Batman for probably six years in a row as kid for Halloween!" Harvey tweeted after seeing the headline, "The Dark Knight."
Harvey (4-0) next pitches Friday at Wrigley Field against the Chicago Cubs. Despite dominance, he enters that start off four straight no-decisions because of paltry run support.