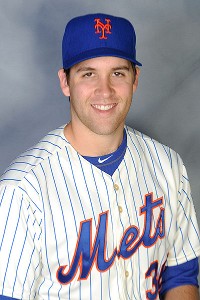 Courtesy of New York Mets
Collin McHugh
ST. LOUIS -- Collin McHugh has arrived in St. Louis, presumably to replace Scott Atchison, who had developed finger numbness Monday and was due to be examined in New York on Tuesday afternoon.
McHugh, 25, will work in long relief.
He had been 3-2 with a 2.74 ERA in eight Pacific Coast League starts with Las Vegas. In 49 1/3 innings, he allowed 53 hits and nine walks while striking out 36. McHugh tossed seven innings Sunday, so he likely would not be available for more than an inning tonight.
McHugh made eight appearances (four starts) for the Mets last season, going 0-4 with a 7.59 ERA.
The Mets had limited options available who already are on the 40-man roster. Josh Edgin has a 7.88 ERA in five appearances since a demotion to Double-A Binghamton. Gonzalez Germen has a 5.96 ERA in 16 relief appearances with Las Vegas. And Hansel Robles is pitching for Class A St. Lucie.