ST. LOUIS
FIRST PITCH: The task does not get any easier for the struggling Mets, who try to snap a five-game losing streak tonight at Busch Stadium.
Winless Shaun Marcum (0-3, 8.59 ERA) opposes right-hander Shelby Miller at 8:15 p.m. ET. All Miller did in his last start was allow a leadoff hit, then retire 27 straight Colorado Rockies.
Then, looming in Thursday's matinee series finale, is Adam Wainwright of curveball-to-Carlos Beltran fame, from which the Mets seemingly still have not recovered.
Wednesday's news reports: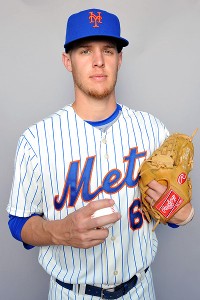 Steve Mitchell/USA TODAY Sports
Zack Wheeler's New York trip is for a medical exam, not his major league debut.
• Top pitching prospect Zack Wheeler experienced soreness in the clavicle in the front of his right shoulder and informed the Triple-A training staff Monday. He will be examined by team doctors in New York today and is likely to miss one start with Las Vegas. The interruption, which is being labeled extreme caution by the Mets, should further ensure Wheeler is not called up until after the deadline for receiving an extra year of arbitration.
Wheeler's agent, Al Goetz, Marc Carig in Newsday that the issue has "been more of an annoyance than anything else for the last couple of starts."
Read more in the Star-Ledger, Times, Journal, Post, Record and MLB.com.
• Jordany Valdespin continues to create headlines, even when he does not play.
Responding to a tabloid report, Terry Collins insisted Valdespin did not try to get out of pinch-hitting Saturday in the plate appearance in which he was plunked in the arm by the Pittsburgh Pirates. Collins said Valdespin actually tried to get out of his next at-bat that game because of swelling in the arm.
Collins was adamant Valdespin should bat the second time and not beg out and show weakness to Pittsburgh -- even if it meant just taking pitches.
The manager, agitated by the continued discussion of Valdespin, did open himself up for some public backlash by saying he did not care what the fans thought about how it was handled. Collins should have said he did not care what anybody outside the clubhouse thought about how it was handled. That would have been far more benign.
Valdespin tweeted during the afternoon Tuesday about critics: "They criticize me to lower my self-esteem, but I'm going directly to the top. I wasn't born to lose."
Writes columnist Mike Vaccaro in the Post regarding Collins' fan reference:
Collins probably knew, as soon as he said this, he shouldn't have said this. He knows the fastest way to be packing your belongings in boxes -- faster than losing games in bunches -- is to take on fans. Fans are undefeated. Fans are a franchise's lifeblood. Fans ...
Well, fans allow you to stay relevant, long past your expiration date. I've believed, and written, that Collins deserves a full and fair accounting before his time is done here. But Collins has also found trouble in Houston and Anaheim when the losing became too much for him. In both cities, he lost the players, and that's bad enough (and judging from the listless way the Mets mailed in another game with the Cards last night, 10-4, that may be happening again).
Read more in the Star-Ledger, Post, Daily News, Journal, Record and Newsday.
• Scott Atchison landed on the disabled list, although assistant GM John Ricco suggested that Tuesday's diagnosis was relatively good news. Ricco said inflammation from a bone spur is irritating a nerve. Atchison will take anti-inflammatory medication and be idle for a week. Collin McHugh, a starter with Las Vegas who tossed 100 pitches over seven innings Sunday, will enter the bullpen as a long reliever. Read more in the Star-Ledger.
• Dillon Gee confessed he was lost for answers after allowing six runs in five innings Tuesday, in a 10-4 loss to the Cardinals. Read game recaps in the Post, Times, Star-Ledger, Daily News, St. Louis Post-Dispatch and MLB.com.
• Landon Powell's emotional story about the death of his infant daughter Izzy on the eve of spring training as well as his own liver issues were profiled on E:60.
• Matt Harvey appears on the cover of this week's Sports Illustrated.
• Dwight Gooden is a "big fan" of Harvey, writes ESPNNewYork.com's Ohm Youngmisuk. Read more in Newsday.
• Jason Bay is in the Bronx this week with the Seattle Mariners. The Mets bought out Bay's contract last offseason. The $21 million owed to him this season by the Mets includes $16 million deferred into 2014 and 2015. Read more in the Star-Ledger.
• Matt Bowman and T.J. Chism combined on one-hit shutout as St. Lucie beat Brevard County, 4-0. Infielder Brandon Hicks, who was in major league camp before being designated for assignment, appeared in that game -- his first official minor league game with the organization. He had been dealing with a calf injury. Read the full minor league recap here.
• Josh Edgin has been promoted from Double-A Binghamton to Las Vegas.
• The Mets signed right-hander Matt Fox out of York in the independent Atlantic League to use in Las Vegas' rotation.
• From the bloggers … John Delcos at Mets Report suggests hitting coach Dave Hudgens is being made a scapegoat for the Mets' hitting woes.
BIRTHDAYS: Right-hander Tyler Walker, who made his major league debut with the Mets in 2002, turns 37.
TWEET OF THE DAY:
If NYM operate cautiously with Wheeler situation, allows them to push back call-up until after enough time passes to push back arb. clock.

— Buster Olney (@Buster_ESPN) May 15, 2013
YOU'RE UP: Are the Mets snake-bit?