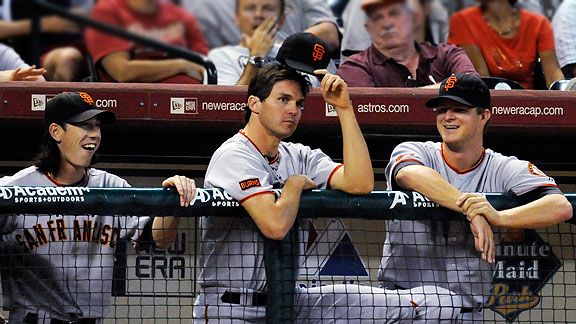 AP Photo/Pat Sullivan
The Mets open the season's second half by consecutively facing San Francisco Giants pitchers (left to right) Tim Lincecum, Barry Zito and Matt Cain.
METS (48-40, second place/NL East) at GIANTS (47-41, fourth place/NL West)
Thursday: RHP R.A. Dickey (6-2, 2.77) vs. RHP Tim Lincecum (9-4, 3.16), 10:15 p.m. ET
Friday: LHP Jon Niese (6-3, 3.61) vs. LHP Barry Zito (7-4, 3.76), 10:15 p.m. ET
Saturday: RHP Mike Pelfrey (10-4, 3.58) vs. RHP Matt Cain (6-8, 3.34), 9:05 p.m. ET
Sunday: LHP Johan Santana (7-5, 2.98) vs. LHP Jonathan Sanchez (7-6, 3.47), 4:05 p.m. ET
Giants short hops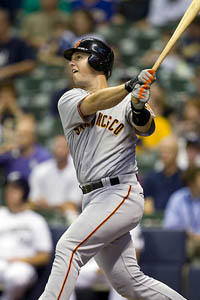 Jeff Hanisch/US Presswire
Rookie catcher Buster Posey's presence prompted the Giants to trade Bengie Molina to the Texas Rangers two weeks ago.
Third baseman Pablo Sandoval, who hit a combined .333 during his inaugural two major league seasons, has had his average slip to .263 this year after going 8-for-43 on San Francisco's 11-game trip to close the first half. Sandoval does not have an extra-base hit in 76 at-bats, since doubling in the second inning on June 19 against Toronto's Jesse Litsch. Sandoval partly may have succumbed to the pressure of being the primary threat for the Giants. Despite an emphasis on his physical shape during the offseason, he's gotten heavier, not smaller. One major problem, aside from his diminished power numbers: Sandoval is lost against left-handed pitching. He's hitting .217 against southpaws this season. … Tim Lincecum became the first Giants pitcher selected to three straight All-Star Games since Juan Marichal made eight straight in the 1960s. Lincecum, the two-time reigning NL Cy Young winner, has experienced control issues this season. He walked five batters in each of his final four starts in May. Because of higher pitch counts, Lincecum generally isn't going as deep in games. Lincecum, who threw 94-95 mph when he burst onto the scene, now settles in at 92-93 mph when he's on his game. Before a recent uptick, the velocity had dipped lower, especially later in his appearances, to 90-91 mph. Lincecum has indicated the issue was mechanical. He did maintain solid velocity in his final first-half start, when he limited Milwaukee to one run in seven innings last Wednesday. Two starts earlier, Lincecum lasted only three innings while allowing four runs against the Boston Red Sox. … One-time Mets-killer Pat Burrell signed a minor league contract with the Giants on May 29 and played five games with Triple-A Fresno before being promoted. He had been released by the Tampa Bay Rays on May 15 after hitting .202 with two homers and 13 RBIs in 84 at-bats. Burrell closed the first half in a 3-for-24 rut and did not start the final two games. He took over left field from Mark DeRosa, whose final game was May 8 at Citi Field. DeRosa, a Bergen Catholic product, ultimately had two surgical procedures performed on the same day: one to repair a torn tendon sheath in his left wrist that also had been operated on during the offseason, and another to address carpal tunnel that led to finger numbness. Burrell has stood out with his plate discipline on a team of free swingers. In a game last Monday at Milwaukee, Brewers starter David Bush threw 101 pitches in six innings. Twenty of those pitches came in Burrell's first two plate appearances. Still, Burrell is not viewed as a long-term solution -- or even necessarily as the solution for the remainder of the season. The San Francisco Chronicle reports the Giants are interested in adding Kansas City's David DeJesus or Milwaukee's Corey Hart. Hart is not the No. 1 goal because the Giants would like to get more left-handed. DeJesus may not be attainable because San Francisco is loathe to part with any of its young starting pitchers. The Giants also don't particularly have major league-ready prospects in Triple-A. … Highly touted catching prospect Buster Posey has been red hot since his season debut on May 29, hitting .350 with seven homers and 25 RBIs in 137 at-bats. Posey's production from July 1 through Saturday (19 hits, six homers, 13 RBIs) marked the first time in National League history a rookie had achieved those levels in any 10-game span. He then had two more RBIs on Sunday in Washington on the final day of the first half. With Posey's emergence, Bengie Molina was traded two weeks ago to the Texas Rangers for reliever Chris Ray and minor league right-hander Michael Main, a 2007 first-round pick. Molina had spurned a superior offer from the Mets in order to re-sign with San Francisco last offseason because he did not want to relocate his family. Posey, 23, was the fifth overall pick in the 2008 draft, during which the Mets took Ike Davis 18th overall. Given Posey's instant success, fans have griped that the Giants should have installed Posey as the No. 1 catcher from Opening Day and never re-signed Molina. Giants officials counter, however, that Posey needed to have his 208 Triple-A plate appearances this season in order to become a more well-rounded catcher. While in the Pacific Coast League, he worked with Fresno manager Steve Decker -- a former major league catcher -- on pitch calling. Lincecum and Matt Cain are now on board with Posey catching them. Posey also was trusted to catch Jonathan Sanchez's last outing, after Eli Whiteside previously had been the left-hander's personal catcher. On the limited days Whiteside is now behind the plate, Posey moves to first base to keep his bat in the lineup. Although Posey was drafted as a catcher and projected there long term, the Giants exposed Posey to first base in the minors to allow the rookie and Molina to play simultaneously earlier in the season. … Ray, a 28-year-old right-hander, spent his first four seasons with the Baltimore Orioles. He had a tremendous road trip after debuting for the Giants on July 2 at Colorado following the completion of the deal for Molina. A strike-thrower in a Giants bullpen where that is not the forte, Ray has allowed one run on two hits while striking out five and walking two in 6 2/3 innings as a Giant. There is talk of Ray emerging as the primary set-up man to All-Star closer Brian Wilson, although that may be above Ray's capability. … Second baseman Freddy Sanchez missed spring training and the first 38 regular-season games recovering from shoulder surgery. San Francisco gave Sanchez a contract extension knowing he had a shoulder issue and believing he could rehab the injury, but the ex-Pirate ended up undergoing an operation days before Christmas. While he's not the same player who produced a league-leading 53 doubles with Pittsburgh in 2006, he's still a capable No. 2 hitter who has also helped defensively. … Shortstop Juan Uribe's current slump -- 3-for-34 in his final 10 games of the half -- coincided with a left ring finger injury. Uribe kept the injury quiet for a while as he swooned at the plate, but the finger got so swollen, it couldn't help but be noticed. He sat for four days before returning for the final two games of the half and looking better. … Aaron Rowand (.238, 8 HR, 27 RBIs) has all but lost his center field job, with the Giants now often employing an outfield of 32-year-old center fielder Andres Torres flanked by Burrell and Aubrey Huff. While Huff has some outfield experience, he primarily has been a corner infielder. Rowand only had resumed starting recently when Torres tweaked a groin, but the former Phillie primarily is a $12 million bench player these days. Rowand, who has a complicated swing that easily gets out of whack, has particularly been susceptible to breaking balls off the plate. … At the same time the Giants traded Molina and installed Posey as the everyday catcher, they decided they needed to get more left-handed at the plate. So they took Travis Ishikawa, who had lost the first base job last season because of a lack of offense, and returned him to the position. Ishikawa early in the season primarily had been on the roster as a late-game defensive replacement for Huff at first base. But he became one of the league's most successful pinch hitters and earned another shot at the primary starting role. Ishikawa's solid road trip to close the first half (.414 in 10 games/seven starts) included belting a grand slam off Colorado ace Ubaldo Jimenez. … Barry Zito raced to a 5-0 record and 1.49 ERA through six starts, but tailed off. He was 0-2 with a 5.79 ERA in his final five starts of the half. Zito is a notorious second-half pitcher. He's 75-40 with a 3.42 ERA for his career after the break. Before the break: 65-70 with a 4.18 ERA. … Cain struggled with location and went 0-4 with a 7.45 ERA in his final five starts of the half.
Matchups
Dickey vs. Giants (career: never faced)
Juan Uribe .667, 1 RBI, 3 AB
Aaron Rowand .333, 3 AB
Edgar Renteria .200, 5 AB
Aubrey Huff .000, 3 AB
Pat Burrell .000, 1 AB
Freddy Sanchez .000, 1 AB
Niese vs. Giants (career: never faced)
Freddy Sanchez .000, 3 AB
Pelfrey vs. Giants (career: 1-1, 2.28 ERA)
Eli Whiteside .600, 5 AB
Aubrey Huff .444, 9 AB
Pat Burrell .250, 8 AB
Aaron Rowand .231, 2 RBIs, 13 AB
Pablo Sandoval .200, 10 AB
Juan Uribe .167, 6 AB
Freddy Sanchez .000, 9 AB
Nate Schierholtz .000, 6 AB
Travis Ishikawa .000, 5 AB
Edgar Renteria .000, 4 AB
Santana vs. Giants (career: 2-0, 3.89 ERA)
Pablo Sandoval .600, 1 HR, 3 RBIs, 10 AB
Nate Schierholtz .500, 4 AB
Eli Whiteside .500, 2 AB
Andres Torres .333, 6 AB
Travis Ishikawa .333, 3 AB
Pat Burrell .313, 1 RBI, 16 AB
Freddy Sanchez .294, 17 AB
Aaron Rowand .292, 2 HR, 6 RBIs, 48 AB
Aubrey Huff .261, 2 HR, 7 RBIs, 23 AB
Edgar Renteria .222, 1 RBI, 9 AB
Juan Uribe .153, 1 HR, 2 RBIs, 59 AB
Lincecum vs. Mets (career: 0-1, 5.04 ERA)
Ike Davis 1.000, 1 RBI, 2 AB
Jose Reyes .444, 9 AB
Angel Pagan .333, 3 AB
Jason Bay .200, 5 AB
Jeff Francoeur .188, 1 HR, 3 RBIs, 16 AB
David Wright .182, 1 RBI, 11 AB
Alex Cora .167, 6 AB
Rod Barajas .000, 5 AB
Henry Blanco .000, 3 AB
Zito vs. Mets (career: 2-2, 4.28 ERA)
Angel Pagan .400, 1 HR, 1 RBI, 5 AB
Jeff Francoeur .400, 1 RBI, 5 AB
Jason Bay .400, 5 AB
David Wright .364, 1 RBI, 11 AB
Rod Barajas .345, 2 HR, 4 RBIs, 29 AB
Henry Blanco .250, 1 RBI, 4 AB
Jose Reyes .091, 1 RBI, 11 AB
Alex Cora .000, 4 AB
Nick Evans .000, 3 AB
Cain vs. Mets (career: 3-3, 4.26 ERA)
Jason Bay .800, 1 RBI, 5 AB
Jose Reyes .571, 1 HR, 5 RBIs, 14 AB
David Wright .444, 3 RBIs, 18 AB
Alex Cora .250, 4 AB
Jeff Francoeur .000, 13 AB
Henry Blanco .000, 6 AB
Angel Pagan .000, 2 AB
Sanchez vs. Mets (career: 2-1, 4.18 ERA)
Henry Blanco 1.000, 2 HR, 2 RBIs, 2 AB
Ike Davis .667, 2 HR, 2 RBIs, 3 AB
David Wright .444, 1 RBI, 9 AB
Rod Barajas .333, 1 HR, 1 RBI, 3 AB
Jose Reyes .333, 1 RBI, 9 AB
Jason Bay .333, 1 RBI, 6 AB
Alex Cora .333, 3 AB
Jeff Francoeur .182, 11 AB
Angel Pagan .125, 8 AB
Nick Evans .000, 1 AB
Last series results:
Mets won 2-1 at Citi Field, May 7-9 (AP game recaps)
Mets 6, Giants 4: Rod Barajas' left index finger was aching, so he knew he was limited at the plate. "I told myself I probably got one good swing," he said. So he took that one swing against Sergio Romo with the score tied in the ninth inning, one on and one out. Did the finger indeed go numb? "My whole body went numb," Barajas said. Barajas and hot-hitting rookie Ike Davis both homered twice, and Davis did a 360-degree flip into the dugout to catch a foul ball in the ninth as the happy-at-home Mets won their eighth straight game at Citi Field. Lefties had been 0-for-17 against Jonathan Sanchez this year coming in, but Davis hit solo drives in the second and fourth innings, connecting on a fastball and a curveball for the first multi-homer game of his young big league career. He combined with Barajas in the second to give New York back-to-back homers for the first time at Citi Field, which opened last year. Davis had noticed the stat about Sanchez and lefties on the scoreboard. His catch came with runners at the corners against Pablo Sandoval with two outs in the ninth. Alex Cora helped break Davis' fall in the dugout. He made a similar catch against the Chicago Cubs' Jeff Baker on April 21 in Davis' third big league game. Davis also started the winning rally, walking with one out against Romo (0-3). Barajas had hurt his finger in the seventh, when Eli Whiteside reached out for a Mike Pelfrey hit-and-run pitchout that wasn't outside enough and whacked Barajas in the mitt for catcher's interference. Barajas took a ball in the ninth and sent a slider high down the left-field line for his ninth homer this season and 101st of his career. It landed just about where his first home run did, giving the Mets their first game-ending hit this season and their fifth ever at Citi Field. Sanchez allowed three home runs for the first time in 72 major league starts, giving up a season-high four runs and seven hits in seven innings. Francisco Rodriguez (2-0) allowed a tying solo homer to pinch-hitter John Bowker in the ninth. The Giants then put two on with second baseman Luis Castillo making a diving stop on Mark DeRosa's infield hit to hold Aaron Rowand at third. Davis' catch left Sandoval with an 0-for-5 night. He is hitless in 14 consecutive at-bats, dropping his average from .337 to .296. Jason Bay ended an 0-for-14 slide with a one-hop RBI double to the center-field wall in the first. Davis homered off the right-field overhang with one out in the second and, two pitches later, Barajas made it 3-0. The only others to hit consecutive homers at spacious Citi Field were Philadelphia's Ryan Howard and Raul Ibanez on June 9, followed by Arizona's Mark Reynolds and Miguel Montero on Aug. 3, according to STATS LLC. Pelfrey rebounded from shoulder stiffness when he allowed six runs at Philadelphia the previous weekend. He gave up three runs and eight hits in 7 1/3 innings. A little tightness remained. The Mets are on their longest home winning streak since taking 11 in a row at Shea Stadium from Aug. 5-24, 2006. San Francisco stranded four runners on third. X-rays on Barajas were negative.
Mets 5, Giants 4 (11 innings): The New York Mets had a jumbled mess behind the plate when they reported to spring training this year. Their catching situation is definitely settled now. Henry Blanco hit a leadoff homer in the 11th inning, New York's second game-ending drive by a catcher in less than a day, and the Mets beat the San Francisco Giants for their ninth straight home win. It was the first time New York had won consecutive games on game-ending homers since Robin Ventura and Mike Piazza did it July 28-29, 2001, against Philadelphia, according to STATS LLC. Rod Barajas connected in the ninth inning the previous night. Blanco drove a 1-0 pitch from former Mets reliever Guillermo Mota (0-1) just over the wall in left for his first homer of the season and the first game-ending drive of his career. Blanco finished with three hits and is batting .429 (9-for-21) in his last seven starts. The Mets tried to sign Bengie Molina over the winter but the free-agent catcher decided to go back to the Giants. Blanco agreed to a one-year deal in December and Barajas didn't join the team until Feb. 24. Now, Barajas leads the team with nine homers and both backstops have done a solid job offensively and defensively. Jason Bay and Angel Pagan had two RBIs apiece for the Mets, who haven't lost at Citi Field since a 9-3 setback against the Chicago Cubs on April 21. Hisanori Takahashi (3-1) pitched a perfect 11th for the victory. New York (17-13) has won three of four overall and leads the majors with 13 home wins. Aubrey Huff drove in two runs for San Francisco, which lost cleanup hitter Molina to a tight left hamstring in the third. Slumping slugger Pablo Sandoval singled in the fourth to end an 0-for-15 slide and hit a sacrifice fly in the eighth. Huff's long drive to right with two on in the 10th died in the wind, which dumped all kinds of trash on the field, and was caught by Jeff Francoeur on the warning track. "This place makes our park look like a band box," Huff said. "It's a tough environment to play in. A lot of wind, a lot of trash. This is a frustrating place when the wind is blowing." Mets ace Johan Santana bounced back from the worst start of his career, pitching into the eighth inning. He had lasted just 3 2/3 innings in an embarrassing loss at Philadelphia. Santana was replaced after Sandoval's fly ball to left cut New York's lead to 4-3, but the bullpen couldn't preserve the victory. Huff hit a tying RBI single off Pedro Feliciano. Santana tried a subtle tweak to his motion, dropping his glove down to help relax his shoulders and prevent the tipping of pitches. He allowed four runs and eight hits, struck out six and walked none. Todd Wellemeyer allowed four runs and three hits over 4 1/3 innings for San Francisco in his first start since April 27. Molina was replaced by Whiteside before the Mets batted in the bottom of the third. He led off the second with a single off the left-field wall, raising his batting average to .333. The Mets' Luis Castillo also departed with a bruised left heel.
Giants 6, Mets 5: After Brian Wilson watched Jason Bay's shallow fly take a wild ride in the wind and end up falling in for a leadoff double in the ninth, he changed his approach. He focused on strikeouts. With trash swirling around him, Wilson struck out the side in the ninth to preserve the Giants' win. The Mets' loss ended a nine-game home winning streak. The game lasted 3 hours, 45 minutes. Aaron Rowand hit a go-ahead, two-run homer into winds that gusted to 38 mph in the eighth inning after the Giants blew a two-run lead for Tim Lincecum, who suffered his third straight no-decision after leaving with the lead. Lincecum left after six innings with a 4-2 lead before the Giants fell apart in the seventh. Bay's wind-aided two-run single off Dan Runzler tied it and David Wright gave New York its first lead with a sacrifice fly. Rowand homered to right-center after Jenrry Meija (0-2) issued the Mets' 10th of 11 walks to retake the lead, and Wilson prevented the Mets from making it three last at-bat wins in a row. He got all five of his outs by strikeout for his seventh save. Bay led off the ninth with another pop fly that the Giants fielders couldn't catch. Instead, it hit off shortstop Juan Uribe's glove. Wright then struck out for the fourth time and was ejected for contesting the call, and Ike Davis and Jeff Francoeur struck out to end it. Sergio Romo (1-3) got two outs for the win. The Giants jumped out to a 4-0 lead thanks to another awful start by Oliver Perez, who walked a season-high seven and hit a batter in 3 1/3 innings. Uribe was hit by a pitch and walked four times, including once with the bases loaded in the fourth. Rowand also scored on a passed ball in the fourth inning. After a perfect first, Perez walked the leadoff batter in three straight innings. In the second, the Giants combined their two hits off Perez with the walk and a wild pitch to take a 2-0 lead. Matt Downs had an RBI single and Ryan Rohlinger, called up for the series for the injured Edgar Renteria, drove in a run with a groundout. Perez again loaded the bases in the third with two walks and by plunking backup catcher Eli Whiteside. But he left unscathed when Angel Pagan made a running catch of Downs' drive to left-center for the third out. The half-inning took 17 minutes and Perez threw 35 pitches, 21 balls. Lincecum then had a 10-pitch, 1-2-3 inning. The fourth was much of the same. Perez walked the bases loaded while getting one out, a fielder's choice by Lincecum. After walking Andres Torres for the second straight inning, Perez was lifted to lusty boos from the crowd of 35,641. Raul Valdes relieved and retired Pablo Sadoval, but the left-hander walked Uribe to score a run. The Giants made it 4-0 on Rod Barajas' passed ball. Perez, winless in seven starts since Aug. 18, gave up four runs (three earned). After scattering four singles through five innings, Lincecum gave up three hits in the sixth, including RBI singles to Davis and Francoeur to make it 4-2. The slight, two-time Cy Young winner came out for the seventh but was lifted for Runzler having thrown 116 pitches. He struck out eight.