CHICAGO -- Scott Hairston, who slugged 20 homers in 377 at-bats with the Mets last season, indicated Friday that he did not get a strong sense the front office wanted him to re-sign with the organization.
So Hairston, after stalling, eventually signed a two-year, $5 million deal with the Chicago Cubs on Feb. 10 that included bonuses based on usage. He faces the Mets in a weekend series at Wrigley Field.
"I get the feeling that they wanted to go in a different direction," Hairston told ESPNNewYork.com. "There was an opportunity -- a slight opportunity -- for me to come back to New York. I just didn't get the sense that they wanted to move forward in that direction."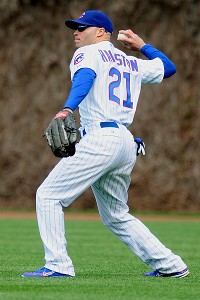 Reid Compton/USA TODAY Sports
Scott Hairston signed a two-year, $5 million contract with the Cubs in February after stalling for a Mets offer.
Sandy Alderson has suggested regret for not re-signing Hairston. The GM indicated Hairston wanted guaranteed playing time, and Alderson was stalling to see if he could sign free agent Michael Bourn or trade for Justin Upton.
By the time those situations were resolved -- at least Bourn's situation -- Hairston had signed with the Cubs. Upton was traded to the Atlanta Braves on Jan. 24. Bourn signed with the Cleveland Indians on Feb. 15.
"I was looking more for an opportunity to play every day," Hairston agreed. "I wanted to find a team where I could do that. New York, at the time, really wasn't a place for me to play every day. There was some interest there. There were times where I wasn't sure what they wanted to do, so I waited. But as a player you can only wait so long, so I knew I had to move on and I had to move forward, and that's just the way it was."
Hairston nonetheless said he still has respect for Alderson.
"Sandy Alderson handled the situation as best he could," Hairston said. "There were some reports where he mishandled the situation. I don't think so. I have a lot of respect for Sandy. I always have and I always will. There were no hard feelings after everything was done."
Alderson botched the situation in the sense that he joked about not having an outfield -- "What outfield?" he had quipped in November -- and then let an affordable piece like Hairston sign elsewhere while waiting for something better that failed to materialize.
"It's one of those things where if they were making a move for Justin Upton, logically that would make a lot of sense," Hairston said. "And obviously the Atlanta Braves came in and swooped Justin away."
Hairston, who was clear he wanted a two-year deal, did not get any offer from the Mets. Not even one year.
"There were reports that it happened, but the Mets never made me a one-year offer," he said.
As for his 2012 season, when he hit .263 with 20 homers and 57 RBIs while appearing in 134 games, Hairston said: "The Mets gave me an opportunity. There were certain situations where a few players got hurt. I believe Lucas [Duda] went down to the minor leagues. I happened to get more playing time.
"I think every time I've gotten 330 or more at-bats, I've put up decent numbers. And I was able to do that in New York. It's hard to do that when you don't play every day, when you're getting a start here and there, like my first year in New York. That was very difficult. I was able to get into a groove last year and was able to get hot and feel good for a longer period of time."
While Hairston did get a two-year contract with the Cubs, he has not received the playing time he desired. He has only 52 plate appearances so far this season and has struggled. He is hitting .125 with three homers and seven RBIs.
"I was hoping to find a place like that this year," Hairston said, referring to his Mets experience in 2012. "The way things have shaken out here in Chicago, I'm just basically starting against left-handers. I'm just trying to get in a groove somehow."